These vegetarian and vegan lunch box ideas are perfect for kids' school lunches and adult lunches.
Vegetarian and vegan lunches work well for all types of eaters and make a nice change from meals made with meat. Adding in more vegetarian meals offers variety, a way to save a little money, and can boost the healthiness of your meals.
Many of these recipes can be prepped in advance to make lunch prep much easier for busy moms and dads. If working from home, they are quick and easy to prepare for both adults and kids, so making lunch doesn't take up your entire lunch time thus giving you more time to enjoy the break and your meal.
This Farmers' Market Farro Grain Bowl can be served hot or cold. It's a wonderful way to use up lots of fresh veggies in a colorful and appetizing dish.
This easy curry chickpea sandwich is a delicious vegan variation of curry chicken salad. You can also skip the bread and serve it up on top of a salad or stuffed it into a low-carb wrap.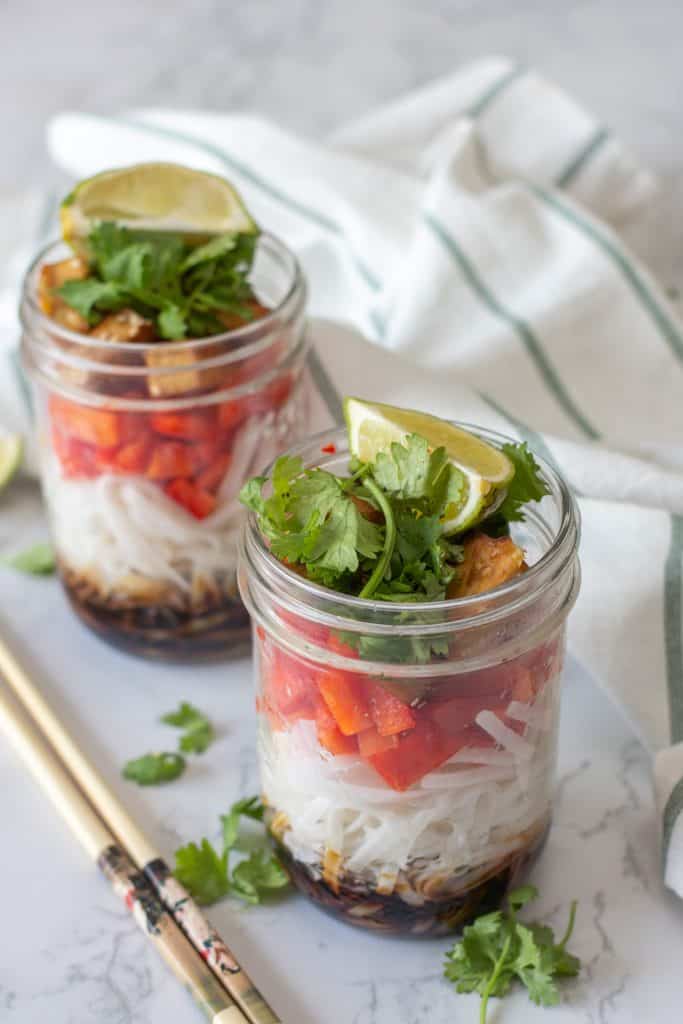 The principle of the dishes in a mason jar is to stack all the ingredients one on top of the other. You can see the different layers of ingredients like in this Asian Noodle in Mason Jar recipe
Quinoa, a healthy protein-packed grain is the star of this easy salad recipe that doubles as a side dish or healthy main in your lunch box. Sweet potatoes and an easy lemon dressing add color and flavor to the quinoa for a delightful combination.
This lentil stew recipe is sure to fill you up and is a straightforward vegetarian style meal to help get your daily dose of vegetables in.
Here's a super easy-to-prepare Tofu Power Bowl that can be made with whatever vegetables you have on hand. I don't know about you, but I really like recipes that are versatile and can be cooked however you want.
Hummus and fresh veggies are what it's all about in these easy to carry sandwich wraps. They take only a few minutes to prepare and create a filling and healthy lunch box meal.
These egg rolls are about to blow your mind! Packed with a scrumptious splash of flavor and protein, this recipe will quickly turn into your favorite recipe. It is a no-nonsense recipe that can be made in a single pan. Whether it's dinner or lunch, Egg Roll in a Bowl will be there to save the day.
The spinach feta filling that makes up spanikopita, a mediterranean pastry, is served up as the filling in a toasted tortilla for a yummy spin on quesadillas. They're easy to eat and can be served cold or at room temperature making it perfect for any lunch box.
The layers of colors in this roasted vegetable sandwich are absolutely brilliant. Start by spreading the bread with beet hummus and green pesto, then layering lots of healthy roasted veggies in the middle.
A healthy muffin packed with veggies and flavored with hints of onion and garlic. A savory rather than sweet muffin to serve as a snack or side for salads and more in any healthy lunch box.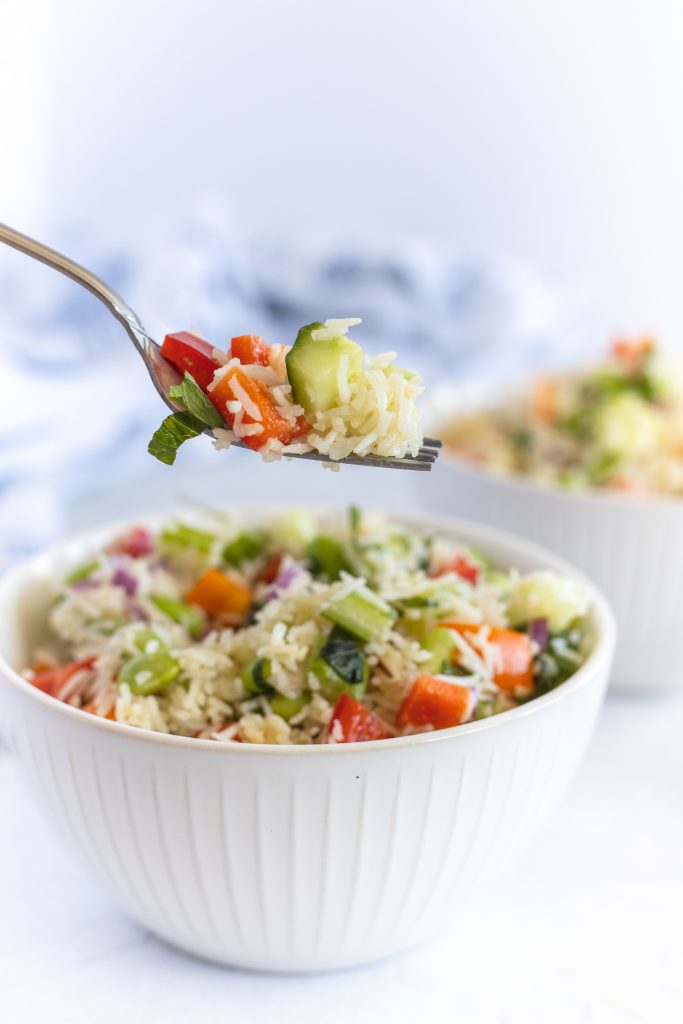 Cold salads are a handy grab-and-go meal for office lunches, but they tend to get a little boring. That's why I love a good rice salad to switch up my midday routine. This basmati Rice Salad with Edamame with yummy veggies is delightful.
14. Sushi Bowl by Noble Veggies
Do you like sushi, but don't have the culinary skills or just the patience to make it at home? Here is the ideal solution for you; a Sushi Bowl that can be prepared in no time!
Corn fritters with yogurt sauce make a tasty addition to carry to work or school. You can heat them up if you want but they actually taste really great cold too.
This bowl is filled with protein and it's also a feast for the eyes. Each bowl can be personalized, everyone can add the ingredients they want. Very easy, don't hesitate to add this type of bowl to your menu with the ingredients you have on hand.
Pastry stuffed with vegetarian sausage make a tasty alternative to a boring old sandwich for lunch. Easy to eat with fingers and can be served up warm or cold.
This Mediterranean couscous salad is great as a side dish, but you can also turn it into a main dish by adding legumes or tofu. It's also perfect for lunches
This egg is a bagel hole is more than just an egg sandwich. We top the bagels with grated mozzarella cheese, chopped green onions, and chopped parsley, sort of like what you would find in a good cheese omelet.
A homemade granola bar to use for a lunch box sweet that doubles as a healthy after school snack. Easy to make and lower in sugar than store bought granola bars.
Food is like fuel for our bodies, and these Peanut Butter Energy Balls are like a power infusion. They pack a ton of energy into a small bite when you need those extra calories to keep you moving.