'Tis the season for merry-making, gift-giving, and of course baking! If you're like many moms this time of year, it seems all your energy goes into planning for the holidays. But now that all the gifts are bought (or made!) and wrapped up nicely, don't forget to save some precious creative energy in your kitchen. Whether you're hosting a big family event or just having a few close friends over for Christmas eve dinner, one way to bring everyone together is with delicious homemade desserts! Here are 25 fabulous recipes that will make your holiday celebrations even sweeter!
Baked mini Gingerbread Doughnuts are so much fun to make and a great alternative to sugar cookies if you are looking for something different to make this recipe it for you.
Loaded with Christmas mix peanut butter m&m's, chocolate chips, peanut butter, oats, and Christmas red & green sprinkles.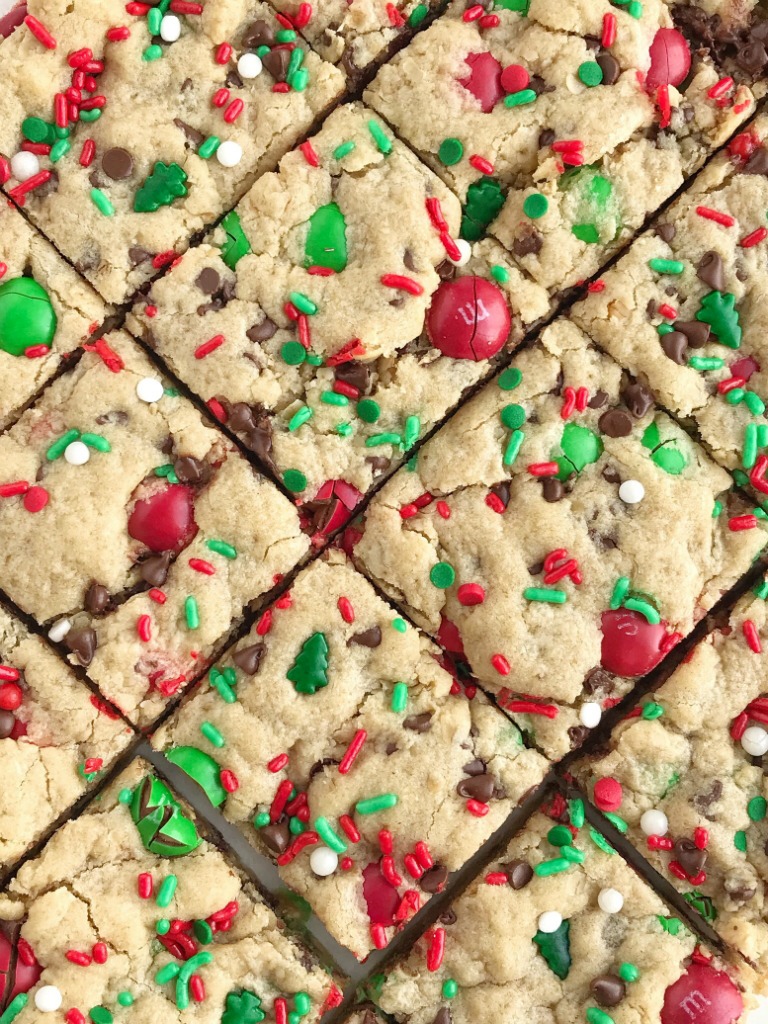 If you're looking for an easy treat to give for the holidays, these Goji chocolate and Coconuts Barks are perfect.
This creamy peppermint cheesecake has an Oreo cookie crust and chocolate ganache topping. The texture is smooth and velvety without being too dense, and the flavor is a delicious creamy peppermint that's perfect for the holidays.
Christmas Lights Cookies with a small batch of royal icing and mini M&Ms as Christmas Lights
No-bake sugar cookie truffles made with only 4 ingredients! An easy and delicious treat for the holidays that is super easy to make.
If there's anything that truly screams Christmas, it's these Gingerbread Cupcakes with Cinnamon Browned Butter Buttercream
These Rolo Pretzels with M&M Candies are a family favorite! Everyone will enjoy this fun, and easy Christmas treat. These are always such a huge hit around the holiday season.
Snowman cupcakes are super cute and fun Christmas cupcakes made with a chocolate cupcake base, and decorated with marshmallows and frosting!
A Christmas Trifle is a delicious dessert perfect for the Holiday Season! It has layers of chocolate brownies, fudge, peppermint cream cheese and Andes Peppermint Crunch Candies
The CUTEST little reindeer treats! Made with fresh strawberries, milk chocolate, and pretzel antlers, these Chocolate Covered Strawberry Reindeer are easy to make and guaranteed to be a hit!
These Christmas Tree Cookies are a fun and festive meringue cookie that are light as air and melt in your mouth! A super cute Christmas cookie perfect for your holiday party!
So cute, and so so easy. I highly recommend you to bring these to any holiday party in the coming days. Your friends and family will go crazy for them,
Oreo Ornaments – Oreo cookies dipped in white chocolate and decorated to look like a holiday ornament with peanut butter cup minis, and festive candies and sprinkles; stress-free Christmas cookie perfection.
This peppermint ice cream is rich and creamy, flavored like a peppermint stick! It's the perfect minty treat.
This Delicious Gingerbread Cake Recipe begins from a moist and perfectly spiced gingerbread batter that creates the most heavenly textured cake you will ever taste!
This comforting pecan pie has a gooey pecan filling and a rich, flaky, buttery crust. It's best served with whipped cream or ice cream for the perfect Thanksgiving dessert!
Grinch Cookies are a fun and festive twist on a classic chocolate chip cookie! Inspired by the popular Christmas movie, these soft and chewy cookies are colored Grinch-green and decorated with green and red M&Ms.
The easiest and prettiest Christmas pastry recipe! This 3-ingredient Christmas Star Twist recipe is made with three layers of puff pastry spread with raspberry jam, twisted into a beautiful star shape, brushed with egg wash and baked.
Christmas Lasagna is a whimsical layered dessert recipe! Made with buttery, red velvet shortbread cookie crust, a peppermint cheesecake layer, white chocolate pudding, whipped cream and mini marshmallows on top. I'm sure it will be a hit at your Christmas gathering.
These cookies are tender, most, and fill with apples and cover with smooth caramel.
Molasses cookies that are soft and chewy on the inside and crisp around the edges. Full of delicious ginger flavor and taste just like Christmas! Drizzle or dip in white chocolate for the ultimate holiday cookie!
Yule Log Cake aka Buche de Noel is a traditional French Christmas cake. A light sponge cake filled, rolled & decorated to resemble a yule log. An amazing holiday dessert!
Bring on the holiday cheer with these cute Christmas Tree Rice Krispies Treats! They're just as fun to make as they are delicious to eat!
This cake is perfect for a crowd – it'll pretty easily serve 16-20 people (with decent helpings – no stingy helpings on this cake!