Sometimes when you're in a hurry, you need to be able to throw all of your ingredients into one pot and have a delicious, home-cooked meal on the table in less than 20 minutes. This Dutch Oven One Pot Pasta is that dish.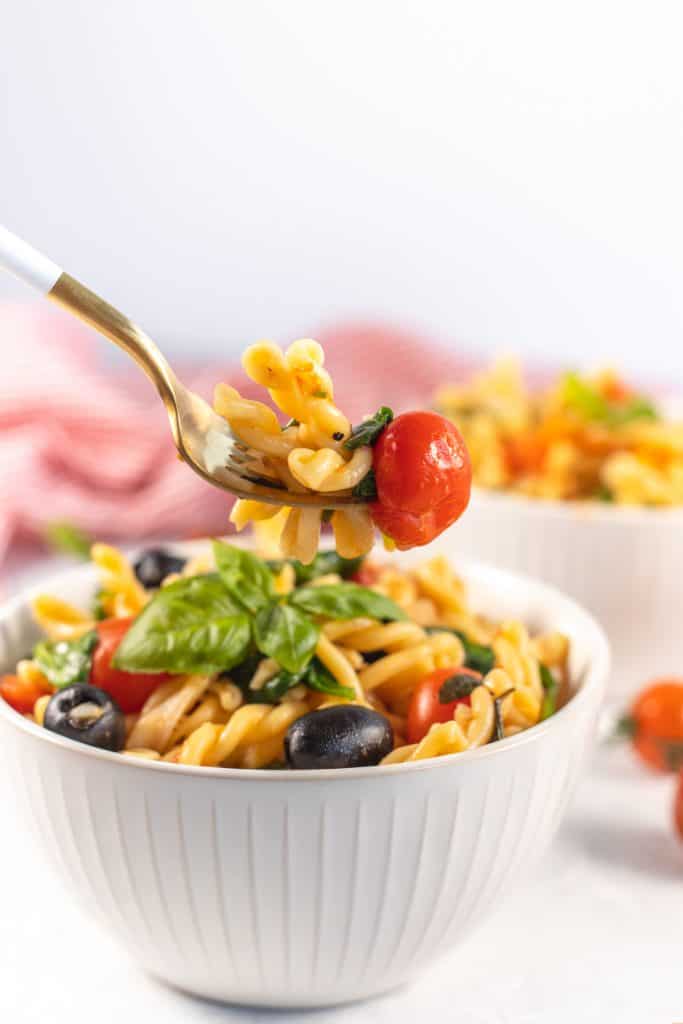 What if I told you that you could boil your pasta and make your sauce at the same time? In this recipe, there's no need to drain the excess water from the pasta because that liquid is going to come together for your smooth, creamy sauce. Mind-blowing.
The ingredients
The pasta: it's the starch from the pasta that thickens the liquid in the pot.
The cherry tomatoes, which burst as they heat, will blend with the broth forming a sauce that's better than any jar or can at the grocery store.
The thinly sliced onion and garlic cloves will cook down and become sweet, giving your sauce a classic taste.
I assure you; It's one of the best ways to develop a hearty, healthy pasta dish in a very short amount of time!
The preparation
Keep an eye on your pasta as it cooks, and make sure to stir it often. Mixing will prevent the spaghetti from sticking to the pot and itself. The olive oil will help with this as well, but if you find that it's sticking, add more water as required while your past cooks.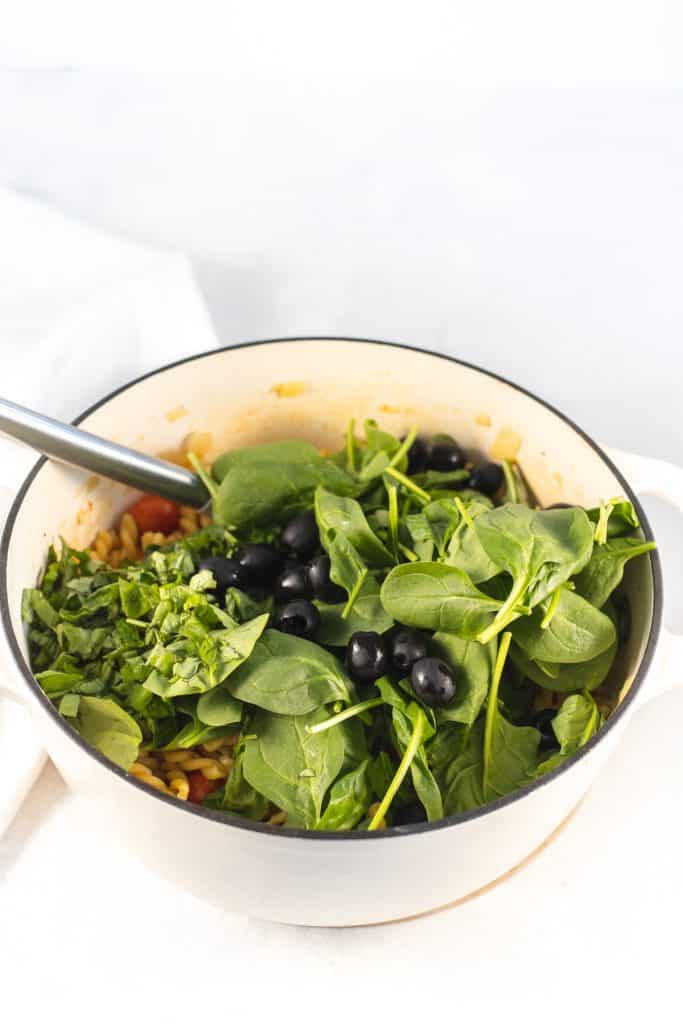 Garnish the pasta with fresh basil before serving to really drive home that authentic flavor. If you're feeling fancy, grate in some parmesan cheese. Adding this one-pot dish to your repertoire will make at least one weeknight meal an absolute breeze.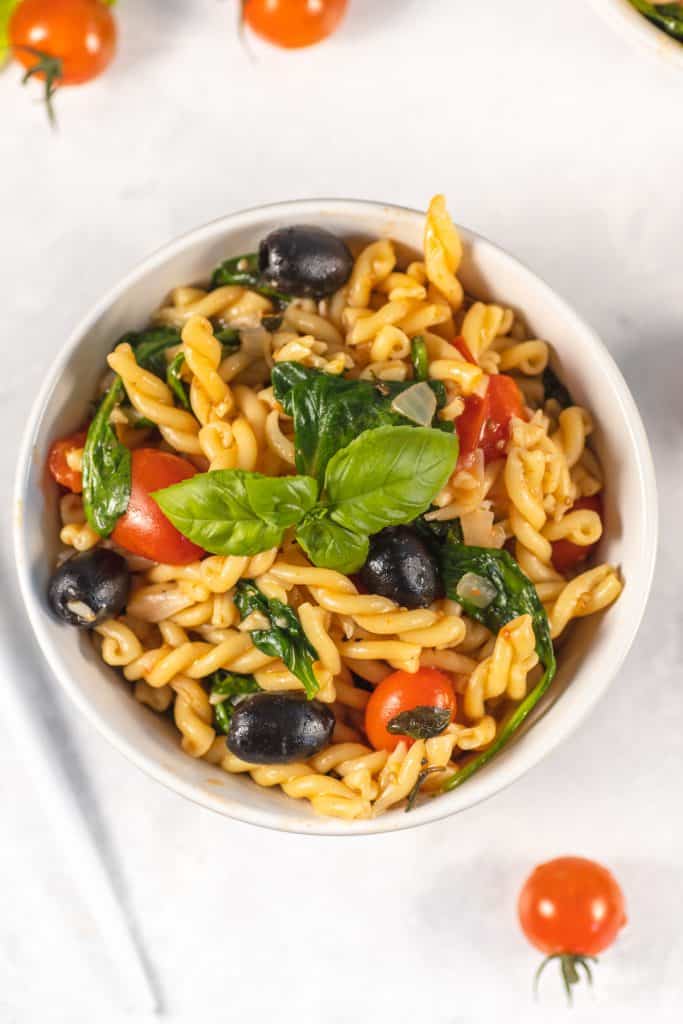 Tips for the Perfect One Pot Pasta
One important thing if you want to have al dente pasta, you will want to keep an eye on the pasta towards the end of the cooking. Unlike the usual method which requires you to lightly cook the pasta and finish it in the sauce, for this recipe you want to cook your pasta exactly to the texture you like.
Stay close to your pot while cooking. Pasta dishes in a single pot tend to stick, so it's important to stay put to stir throughout the cooking process.
FAQS
What is the best pan to use to cook the pasta?
Make sure you have a pan with enough space to add all of your ingredients. A large Dutch pan is perfect to cook pasta dishes in one pot.

Should you add oil to pasta?
Yes! Since it's cook all together, the oil will prevent the pasta from sticking together.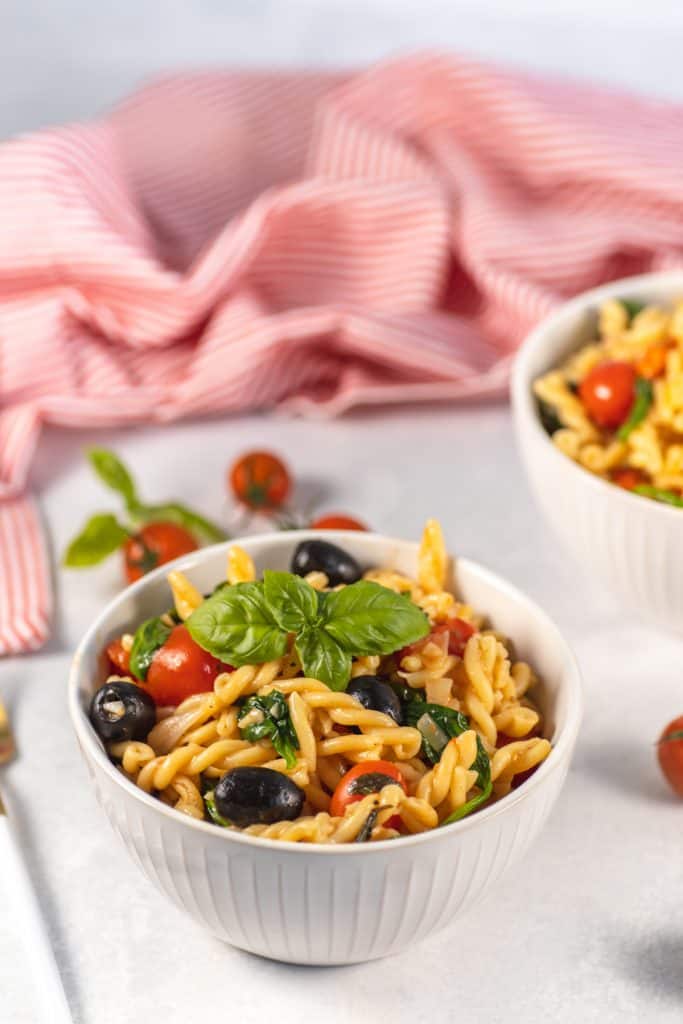 Dutch Oven One Pot Pasta
In addition to being super easy, this One Pot Pasta recipe is super delicious. A must try, I'm sure you will not be disappointed!
Ingredients
1

lb.

gemelli pasta

you can also use fusilli or penne

3

tablespoon

olive oil

1

onion

finely chopped

3

cloves

garlic

finely chopped

2

cups

cherry tomatoes

4 ½

cups

vegetable broth

3

cups

baby spinach

½

cup

black olives

½

cup

fresh basil

chopped
Instructions
In a large pot over medium-high heat, add the olive oil and onion and garlic. Sauté for 5 minutes.

Add the pasta, tomatoes, and the broth. Season with salt and pepper according to your taste.

Bring to a boil; reduce heat and simmer, uncovered, until pasta is cooked through and liquid has reduced (about 10 to 12 minutes). Add more water if needed.

Once the pasta is cooked, add the spinach, black-olives, mix and reserve 5 minutes for the spinach to soften.

Garnish with fresh basil and serve immediately.
Notes
This dish can be kept in the fridge for up to 3 days.
Nutrition
Calories:
354
kcal
Carbohydrates:
11
g
Protein:
2
g
Fat:
13
g
Saturated Fat:
2
g
Polyunsaturated Fat:
1
g
Monounsaturated Fat:
10
g
Sodium:
1348
mg
Potassium:
353
mg
Fiber:
2
g
Sugar:
5
g
Vitamin A:
3263
IU
Vitamin C:
27
mg
Calcium:
55
mg
Iron:
1
mg