Do you want a vegetarian alternative to an Italian favorite dish? Are you wondering what recipe to make with tofu that your whole family can enjoy? Look no further this Baked Tofu Parmigiana is the recipe for you.
This recipe is called Tofu Parmigiana. You'll find this is a vegetarian alternative to Chicken Parmigiana which gets eaten throughout many different countries. But Chicken Parmigiana is considered a staple everywhere in Italy, where it can get found in restaurants, bars, and even supermarkets to enjoy at your own home.
As many people know, tofu can be bland on its own, and without a great recipe, you will sometimes want to step away from your knife and fork and throw it in the bin! But not to worry, with all the tofu recipes I have been perfecting over the years, you'll most likely want to add tofu into your diet every week.
The tomato marinara sauce and sharp parmesan cheese compliments the firm tofu and will turn you to the tofu team without a doubt. This recipe can get described in two words. Divine and Easy.
You'd be surprised with how healthy tofu is. Tofu is made from 100% soy. It can come in the silken, soft, firm, and extra firm in texture. It has many health benefits, for example, decreasing your chances of osteoporosis and promoting healthy bone growth. Tofu has properties to help with memory, and is great for promoting healthy brain function. Tofu is rich in calcium, manganese, copper, selenium, protein, phosphorous, omega-3 fats, iron, magnesium, zinc, and vitamin B1.
How can each type of tofu get used?
I recommend buying organic, non-GMO whenever possible for best quality
Silken – Silken tofu gets mainly used in dressings for salads or desserts.
Soft – Soft tofu can get used in many different dessert dishes such as cheesecakes and mousses. It even can be used for smoothies as a thickener.
Firm – When it comes to firm tofu, firm is mainly used as an alternative for meat products and can be baked, fried, deep-fried and even boiled.
Extra Firm – Extra-firm tofu is another soy product that gets used to replace meat. It can be cooked in most methods like grilling, broiling, pan-frying, deep-frying and can even get crumbed to give the appearance of grounded meat.
What flavors and other ingredients go perfect with tofu?
When you start cooking with tofu, it can be hard to know what flavors can complement this bland product.
There are many herbs and spices such as turmeric, paprika, garlic and even basil. For vegetables, tofu goes perfect with tomatoes, sweet potatoes, and beans.
The other Secret is to have a tasty tofu is to drain it very well. Most blocks of tofu come packed in water, which you'll need to remove so the tofu is able to best absorb flavors and get crispy. The drier you get tofu, the better!
Back to more on my delicious Tofu Parmigiana. Not only will this dish be healthier but can get enjoyed on a weekly to monthly basis as a reward. Every day will feel like a cheat day. This vegetarian alternative is a great meal to share with your loved ones.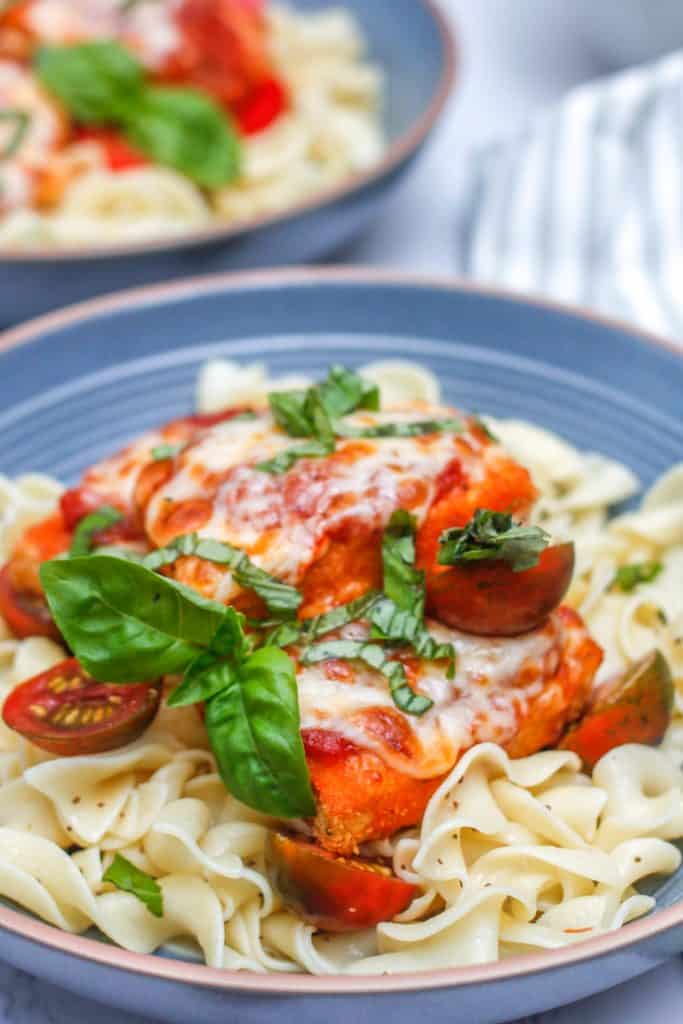 Baked Tofu Parmigiana
 Are you wondering what recipe to make with tofu that your whole family can enjoy? Look no further this Tofu Parmigiana is the the recipe for you.
Ingredients
1

cup

breadcrumbs

1

tablespoon

Italian seasoning

1

egg

1 14-

ounce

extra-firm tofu

¼

teaspoon

salt

2

teaspoons

extra-virgin olive oil

¼

cup

Parmesan cheese

grated

¾

cup

marinara sauce

½

cup

mozzarella cheese

shredded

2

tablespoons

fresh basil

chopped
Instructions
Cut tofu lengthwise into 4 rectangular and pat dry.

In a bowl beat the egg and dip the tofu it. 

In a large plate mix breadcrumb, garlic powder, salt and Italian seasoning.

Press the tofu slices in the breadcrumb mixture.

Heat 2 teaspoons oil in a large nonstick skillet over medium heat.

Add the tofu steaks and cook until browned on both side, about 3 minutes on each side.

Remove the tofu steak from the skillet and place a baking sheet, top with marinara sauce, parmesan and mozzarella and place order the broiler for 5 minutes

Sprinkle with basil and serve.
Notes
The equipment are affiliate links of products I use and love!
Nutrition
Calories:
198
kcal
Carbohydrates:
11
g
Protein:
16
g
Fat:
10
g
Saturated Fat:
4
g
Trans Fat:
1
g
Cholesterol:
56
mg
Sodium:
706
mg
Potassium:
372
mg
Fiber:
1
g
Sugar:
4
g
Vitamin A:
463
IU
Vitamin C:
3
mg
Calcium:
212
mg
Iron:
3
mg