These Blue Spirulina Protein Energy Balls are an energizing and nutrient-rich snack for any time of the day. Packed with antioxidants and plant-based protein these energy balls are no-bake, high in fiber, and great for boosting your metabolism for hours on end!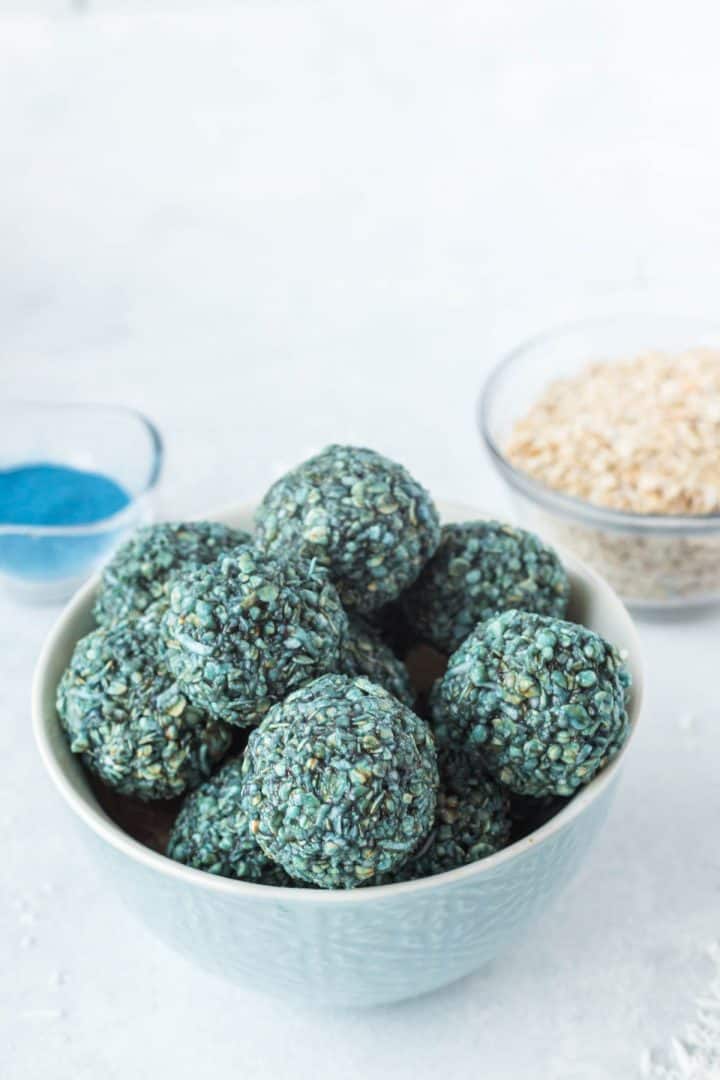 These Blue Spirulina Protein Energy Balls are the most colorful and healthy treat. They're made with only 7 simple ingredients but with big in flavor, it's a delicious, clean protein-filled snack! They might not give you superpowers, but they will make you feel super good! Made with Blue Majik Spirulina and all-natural ingredients, these no-bake energy balls are rich in nutrients and antioxidants. They're quick to whip up and provide a great boost of plant-based energy on the go.
You can be made in advance and stored in the fridge or freezer. These are filling enough to work as a quick breakfast or they make a perfect snack to keep you powered up until your next meal. Plus you can totally customize them to fit your needs and tastes.
This rich cobalt algae is not only stunning to look at, but it's also perfect to add to your diet. Spirulina is one of the highest protein foods in the world and contains more vitamin B12 than salmon.
Incorporating Spirulina into your diet is a great way to get a lot of nutrients in one place. Some of the benefits of Spirulina include:
It's an incredible source of plant-based protein—around 65% by weight, which is more than any other plant
It contains all 9 essential amino acids that your body needs but can't produce itself
It's rich in B vitamins and iron, which are often lacking in vegetarian and vegan diets
It's loaded with antioxidants that help prevent cell damage from free radicals (which can lead to cancer)
It helps reduce bad cholesterol and blood pressure levels
Has anti-inflammatory properties which reduce inflammation in osteoarthritis patients, as well as rheumatoid arthritis patients
Now that you know all about the benefits, here's how to make them!
This was inspired by my Peanut Butter Energy Balls.
Jump to:
Ingredients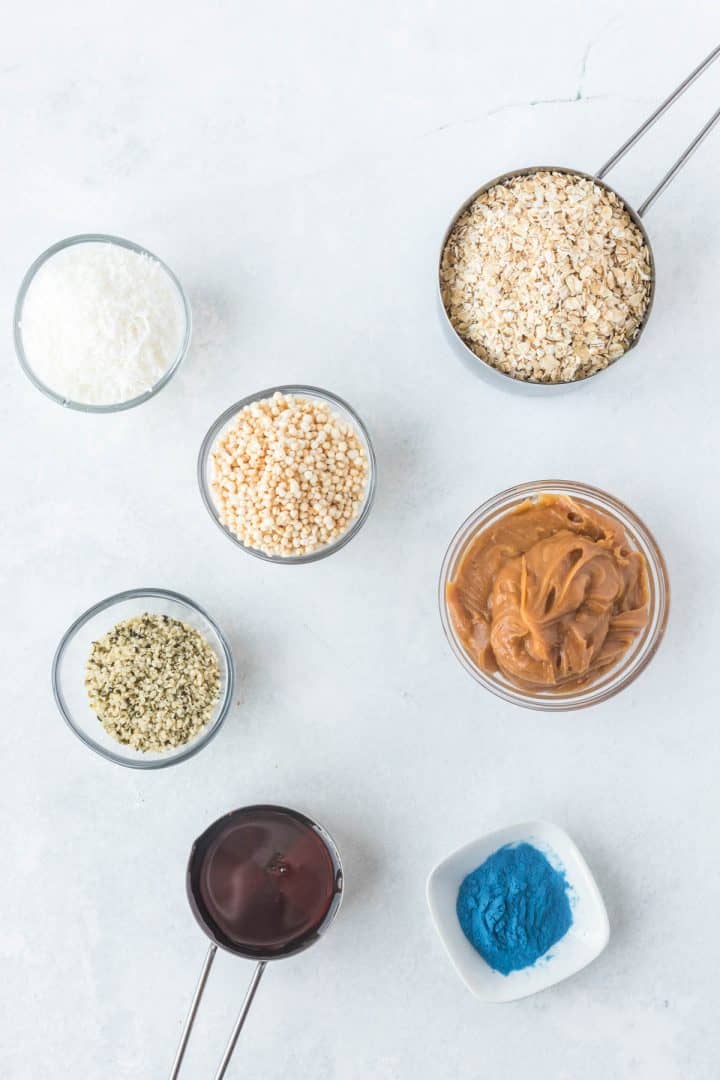 oats
natural peanut butter
puffed quinoa
hemps seeds
shredded coconut
maple syrup
blue spirulina
See recipe card for quantities.
Instructions
Combine all the ingredients in a bowl.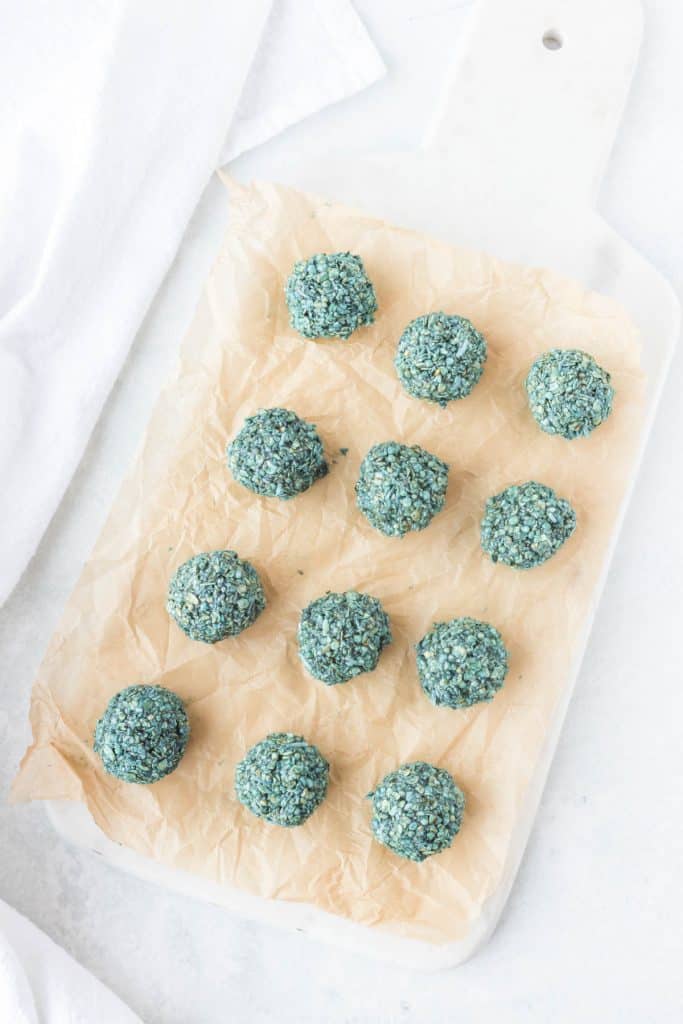 Take 2 tablespoon of the mixture and shape little balls with your hands
Storage
You can keep the energy balls in an airtight container in the fridge for up to 7 days and you can also freeze them for 3 months.
FAQ'S
Is blue spirulina better than green?
Many people consider blue spirulina easier to take since you don't have to deal with the fishy smell and taste that comes with green spirulina. 
 
Lastly, blue spirulina has fewer heavy metals than green spirulina. If the blue spirulina is top quality, you should have no heavy metals in your powder
How much protein should I eat a day?



According to the Dietary Reference Intake report for macronutrients, a sedentary adult should consume 0.8 grams of protein per kilogram of body weight, or 0.36 grams per pound. That means that the average sedentary man should eat about 56 grams of protein per day, and the average woman should eat about 46 gram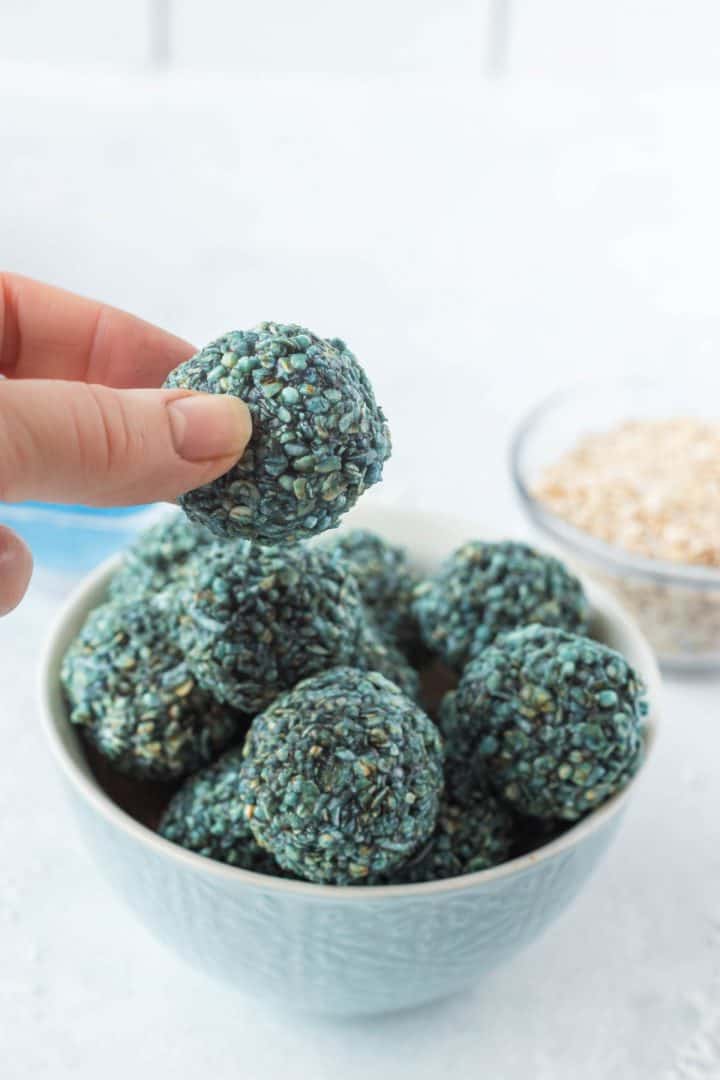 Snack Recipes
Blue Spirulina Protein Energy Balls
Ingredients
1

cup

oats

½

cup

peanut butter

natural

¼

cup

puffed quinoa

¼

cup

coconut

grated

¼

cup

maple syrup

2 tablespoon

hemps seed

1

tablespoon

blue spirulina
Instructions
Combine all the ingredients in bowl

Take 2 tbps of the mixture and form little balls with you hands

Keep in the fridge or the freezer
Nutrition
Calories:
99
kcal
Carbohydrates:
10
g
Protein:
9
g
Fat:
5
g
Saturated Fat:
1
g
Polyunsaturated Fat:
1
g
Monounsaturated Fat:
2
g
Sodium:
46
mg
Potassium:
99
mg
Fiber:
1
g
Sugar:
4
g
Vitamin A:
3
IU
Vitamin C:
1
mg
Calcium:
13
mg
Iron:
1
mg