Craving some Chinese food? Well, look no further because I got a great recipe for you – easy Inside Out Egg Roll! This dish is simple to make and it's full of Asian flavor. Plus, it's a fun way to change up your usual dinner routine.
Eat your egg roll in a bowl and skip the egg roll wrappers. This inside-out egg roll bowl is packed with all of your favorite egg roll ingredients – cabbage, carrots, beef, and green onions – but it's a lot easier to make. And it's just as delicious as a classic egg roll.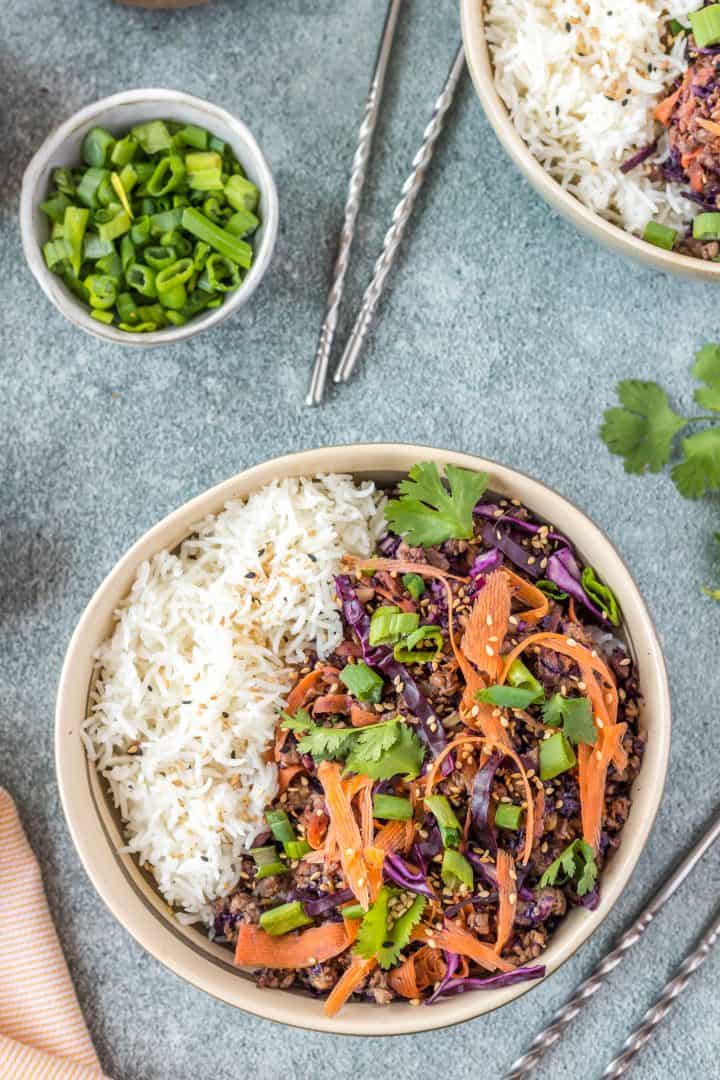 These egg rolls are about to blow your mind! Packed with a scrumptious splash of flavor and protein, this recipe will quickly turn into your favorite recipe. It is a no-nonsense recipe that can be made in a single pan. Whether it's dinner or lunch.
It's packed with loads of vegetables that make it a healthy recipe. Orange carrots and red cabbage add a pinwheel of color to this recipe. The subtle crunch of cabbage makes an appetizing combination with the scrumptious tenderness of vegan beefless protein.
The extra swirl of soy sauce and sesame oil in this recipe is just like the cherry on the top! You can also add some sriracha and green onions to add another punch of savory flavors, making Egg Roll In a Bowl even more delightful. The subtleness of ginger and garlic make this recipe all the more worth it.
If you're in a hurry, you can also use a packaged coleslaw mix instead of chopping a red cabbage.
So next time you're craving Chinese food, ditch the takeout menu and whip up this easy inside-out egg roll bowl. It's sure to satisfy your cravings and it's a whole lot healthier, too!
Looking for more easy recipes? Check out these Bowl recipes for more inspiration.
The ingredient
Onion
Garlic
Ginger
Hoisin sauce
Ground beef or beefless ground if you are vegetarian
Red shredded cabbage (I use the food processor)
Carrots in ribbon or shredded
Rice Wine vinegar
Rice
Spring onion
Cilantro
Sesame seeds
See recipe card for quantities
How to make the Inside Out Egg Roll
Egg Roll In a Bowl can be prepared in one skillet in under 20 minutes, and it's packed healthy protein and all the flavors you want. What more could you dream of?
Try it now and see how everyone is wow-ed by your culinary skills! Happy Eating!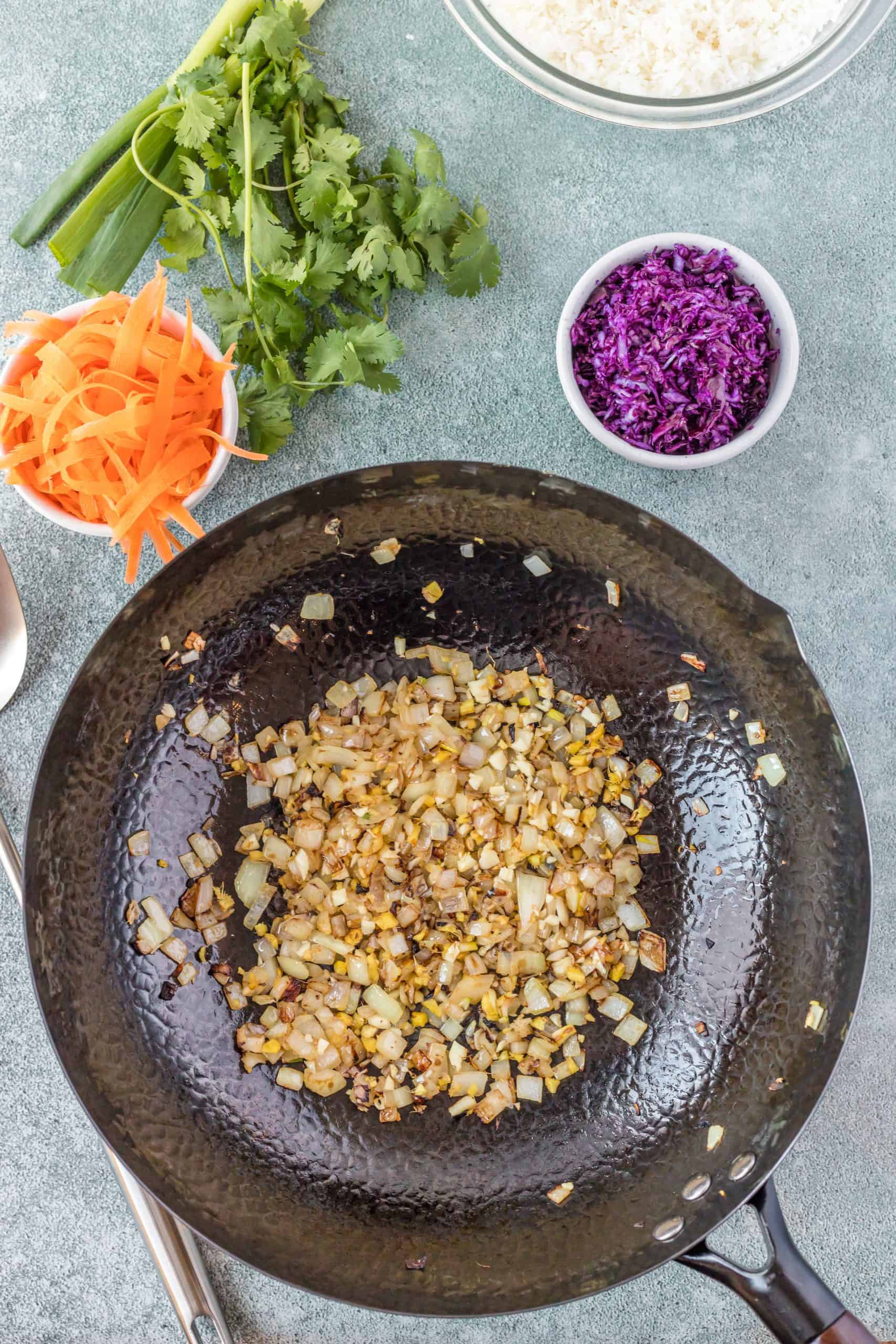 In a wok or large skillet add the olive over medium heat. Once the olive oil is hot add the garlic and ginger and cook for 1 minute.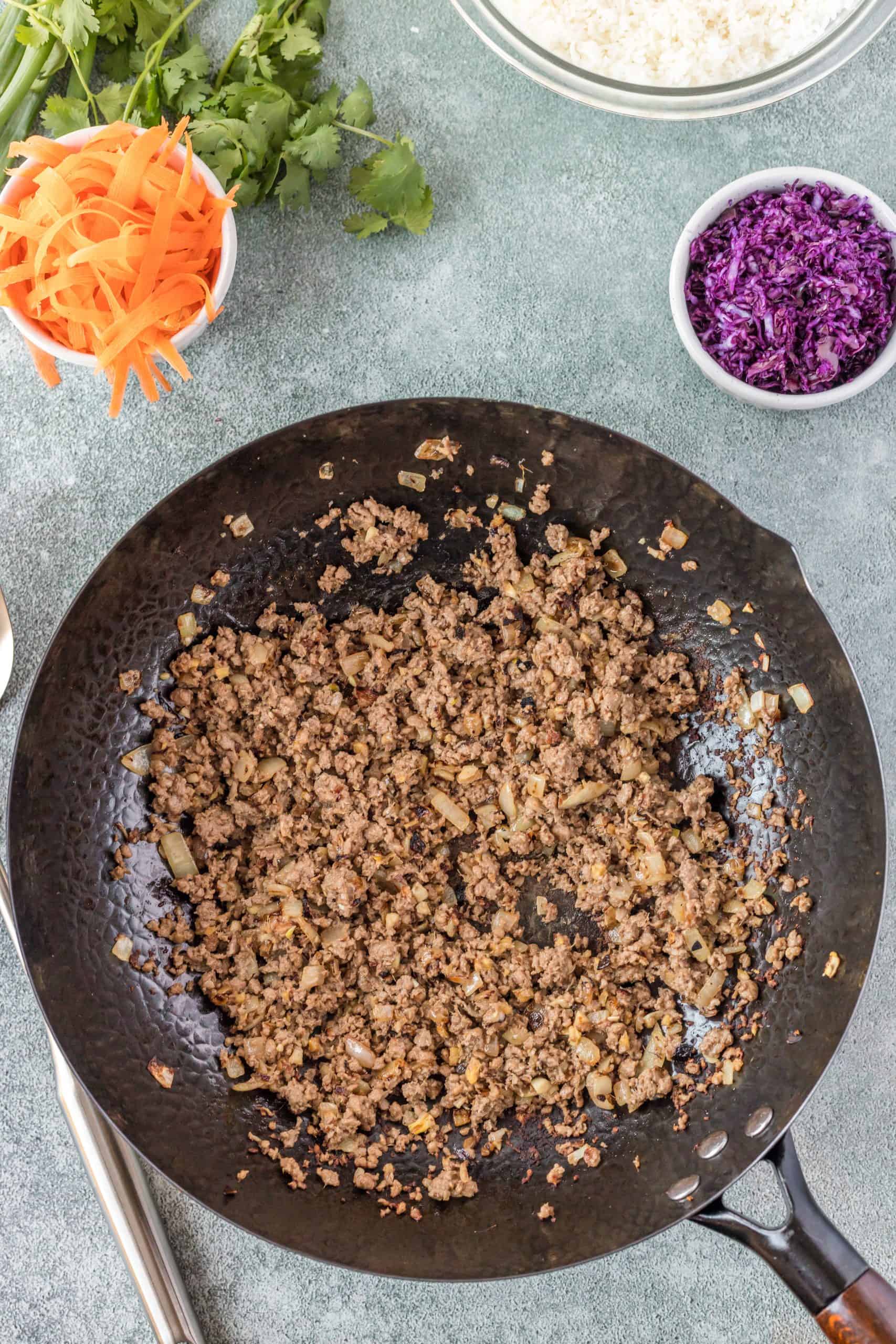 Add the beef and cook until it's completely cooked. About 10 minutes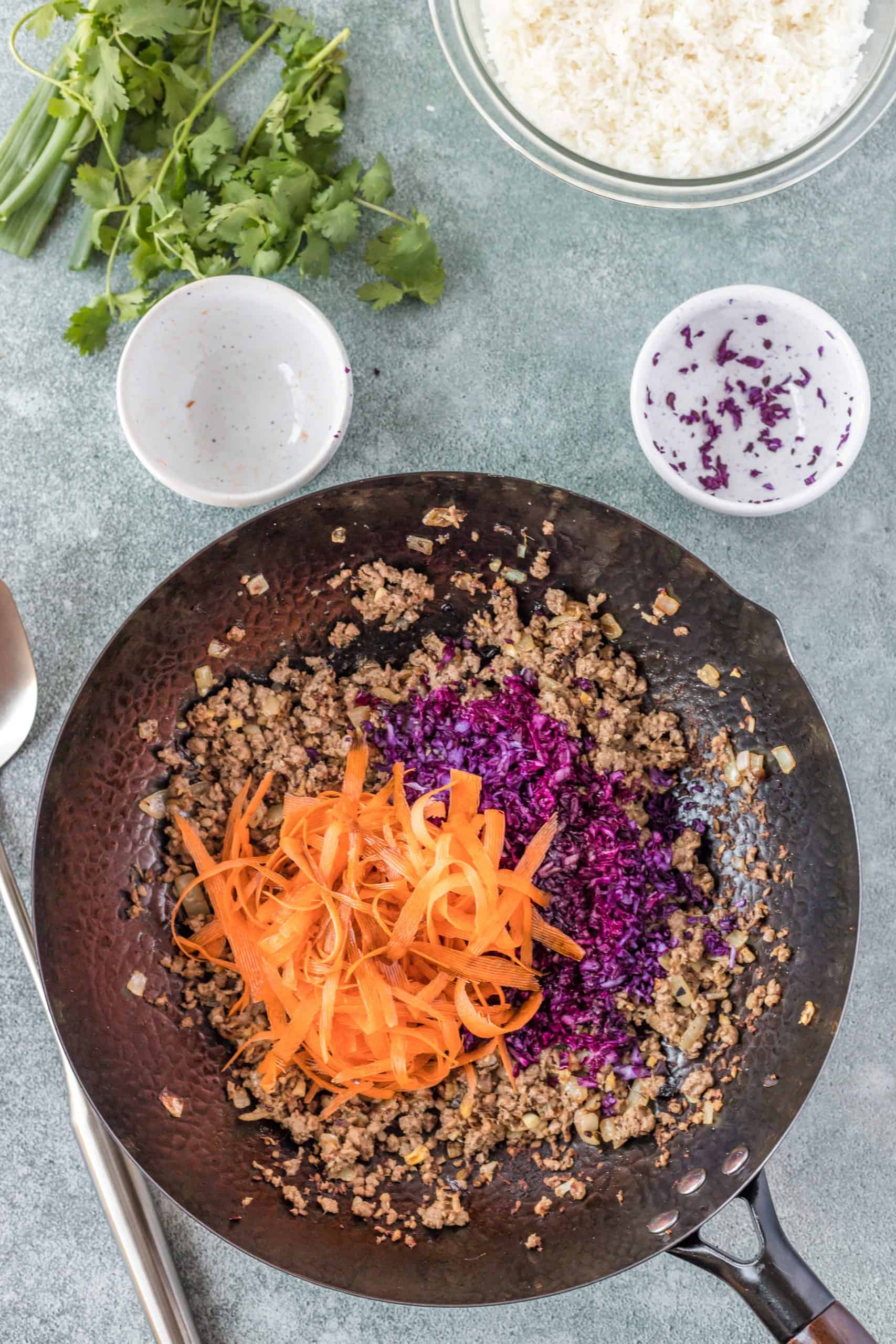 Add the rest of the ingredients, and cook for another 3 to 5 minutes, until the vegetables are softened
Tips
Be sure to chop your fresh vegetables into small pieces so they will cook evenly.
You can use any type of rice you like, but I prefer white rice because it has a neutral flavor.
These egg rolls are best served fresh, but you can store leftovers in the fridge for up to three days.
Serve with a side of hot sauce for an extra kick of flavor.
FAQS
Can I make this dish ahead of time?
Yes, you can make it ahead of time and store it in the fridge for up to three days.
Can I freeze the leftovers?
Yes, you can freeze leftovers for up to three months. Just be sure to thaw them before reheating.
What other vegetables can I use in this dish?
You can really use any type of vegetable you like. Some other good options include broccoli, zucchini, and mushrooms.

Can I omit the rice?
Yes, you can omit the rice if you're looking for a low-carb option. Just be sure to increase the amount of vegetables you use. Alternatively, you can substitute quinoa or cauliflower rice for the white rice.

What are the taste and the texture of egg rolls bowl?
The egg rolls bowl is savory with a slight crunch from the vegetables. The rice vinegar adds a touch of acidity, while the sesame seeds add a nutty flavor and texture.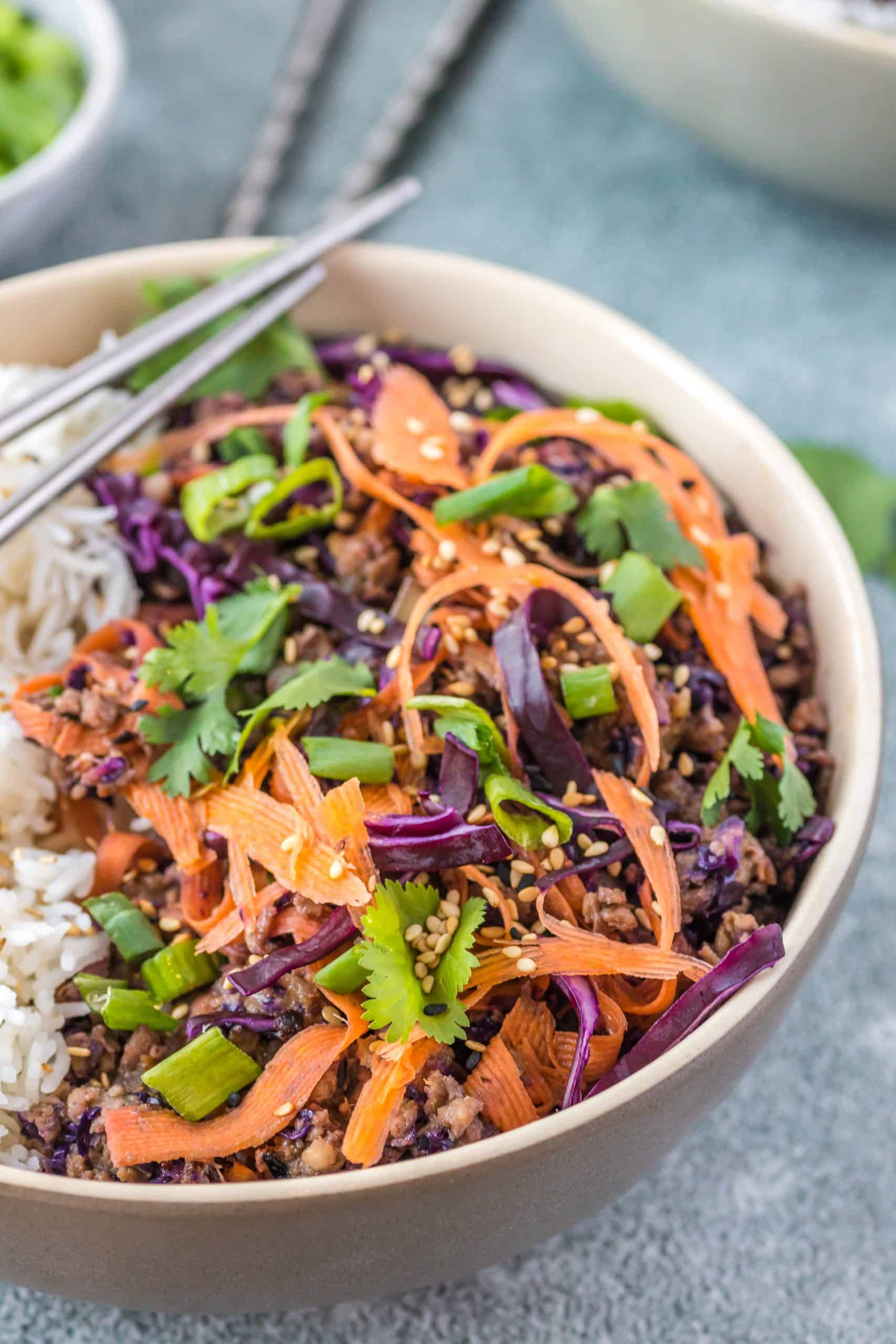 Variations
For a spicier dish, add a few drops of hot sauce to the filling.
For a sweeter dish, add a tablespoon of honey to the filling.
For a more savory dish, add additional tamari sauce or soy sauce to taste.
If you want a heartier dish, you can add cooked chicken, shrimp, or tofu to the filling.
Egg Roll in a Bowl
Inside out Egg Roll can be prepared in one skillet in under 20 minutes, and it's packed healthy protein and all the flavors you want. What more could you dream of?
Ingredients
1

tablespoon

olive oil

3

cloves

garlic

minced

1

tablespoon

ginger

grated

2

tablespoon

hoisin sauce

1 ½

cup

ground beef

or impossible meat if you are vegetarian

¾

cup

red cabbage

shredded

3

larges

carrots

in ribbon or shredded

1 tbsp

rice vinegar

4

cups

rice

2

spring onion

finely chopped

Coriander and sesame seeds to taste
Instructions
In a wok or large skillet add the olive overmedium-high heat. Once the olive oil is hot add the garlic and ginger and cook for 1 minute.

Add the beef, and cook for 10 minutes, until it's complety cooked

Add the rest of the ingredients except the fresh cilantro and spring onion, and cook for another 5 minutes until the vegetable has softened.

Serve over rice, garnish with spring onions, cilantro and sesame seeds
Nutrition
Calories:
398
kcal
Carbohydrates:
199
g
Protein:
34
g
Fat:
6
g
Saturated Fat:
1
g
Fiber:
26
g
Sugar:
5
g
Calcium:
119
mg
Iron:
7
mg