This High Protein Bean Salad is fresh and perfect for lunch
This dish also works well as a dinner, lunch, or side dish.  It's a potluck favorite because the longer it sits at room temperature, the more time the beans have to marinate in the dressing.  And because beans are dirt cheap, you have a filling dish on the table in minutes that won't break the bank.
If you love hearty salad, make sure to try my Mediterranean Pearl Couscous Salad or my  Basmati Rice Salad with Edamame also!
Every cell in our bodies contains protein. We need that protein in our diet to help our bodies repair cells, and make new ones. It builds muscle and is good for your bones.
If you are just starting to eat vegetarian or vegan, it can be difficult to get the protein your body needs.  That's where this High Protein Bean Salad comes in.  It's a robust salad that won't have you missing the meat. 
Beans also have the added benefit of a ton of fiber and are rich in B vitamins which is good for your heart and help reduce stress. Plus beans are high in potassium which will make you feel more energetic. The salad is full of health benefits and is delicious so there is no reason not to try it!
The Ingredients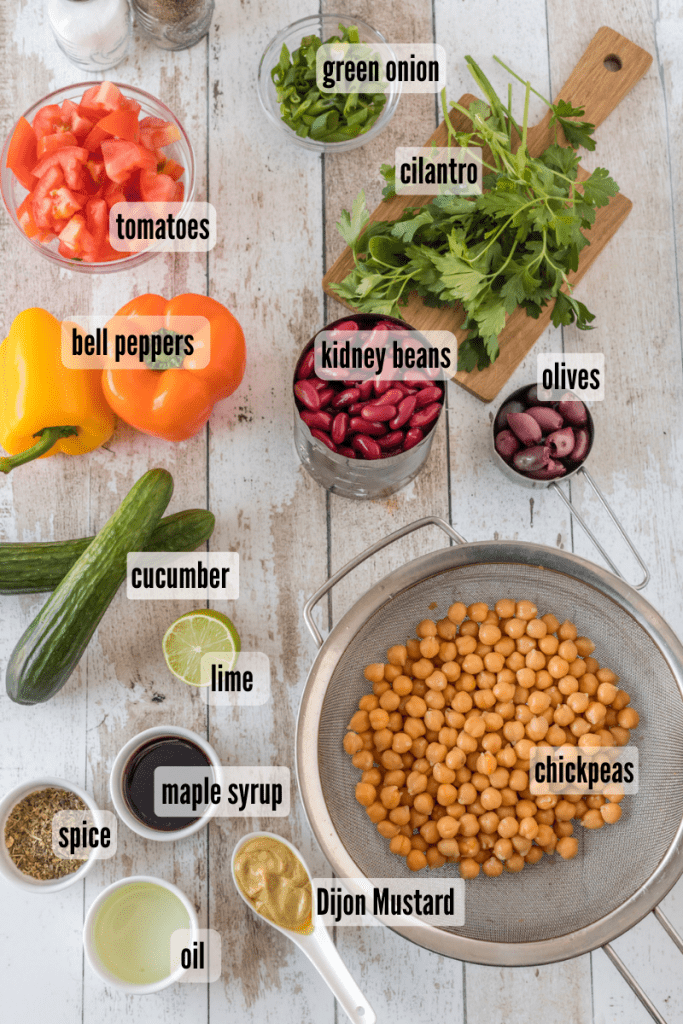 Chickpeas: I use can chickpeas but you can also use dry ones that you cooked
kidney beans: Same as the chickpeas, I use can kidneys but you can use dry.
Tomatoes: Plum tomatoes are the best for this recipe
Cucumber: You can keep the skin, just give it a good wash. I like to soak it for a few minutes in water with 1 tablespoon of vinegar.
Bell pepper: Choose the color that you love red, yellow or orange
Green Onion: you can substitute with shallots
Dijon Mustard
Maple Syrup: You can also use honey or agave syrup.
Olive oil: If you prefer a more neutral oil use avocado oil.
Lime
Olives
Cilantro: Use fresh cilantro
See recipe card for quantities
Step by step instructions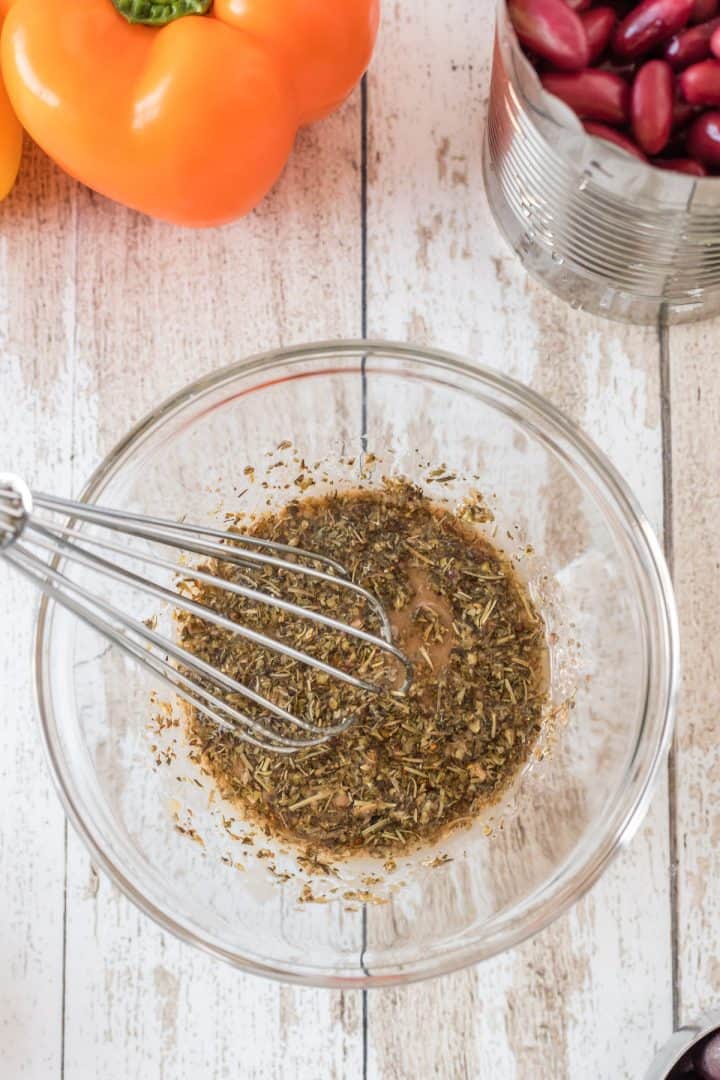 Add the ingredients of the dressing to a bowl and mix it.
Put the salad ingredients in a bowl.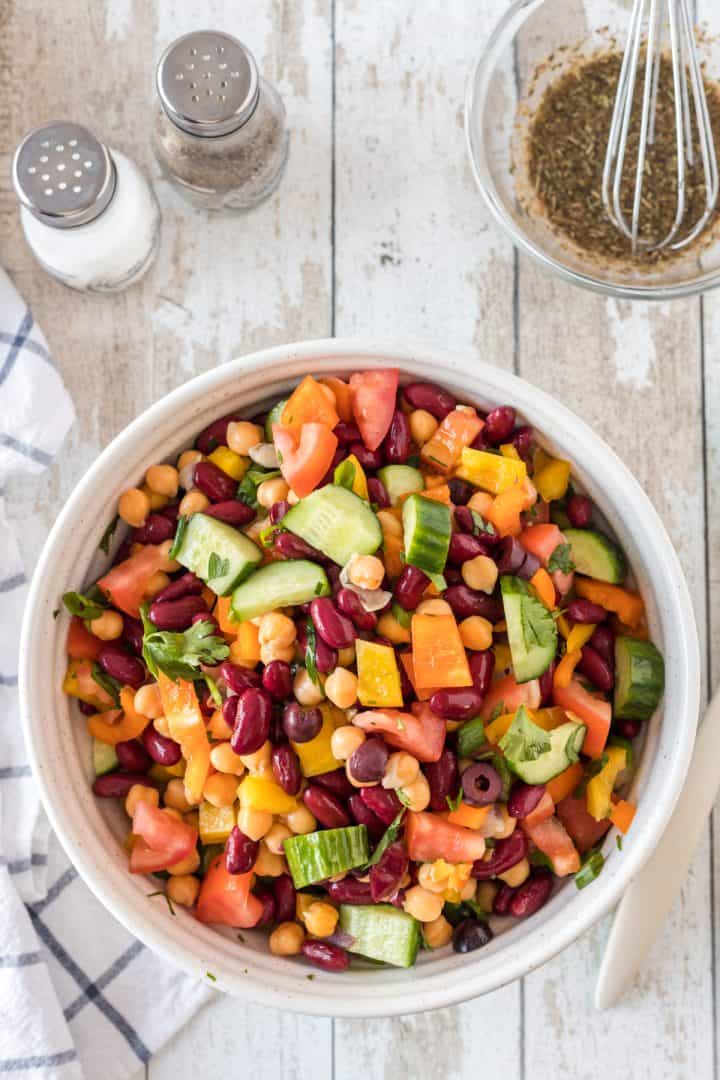 Pour the dressing over the salad and let it macerate for 30 minutes before serving.
FAQ'S
What is in herbs de Provence?

Herbs de Provence is the belle of the ball in the salad dressing.  This mix of dried herbs is used heavily in French cuisine and contains thyme, basil, rosemary, tarragon, savory, marjoram, oregano, and bay leaf. 

If you have all of those ingredients, by all means, make your own mix.  But in general, it's much easier to buy a small packet of pre-blended herbs.

To keep the salad from being too bland, the vinaigrette also has lime juice, Dijon mustard, and balsamic vinegar to perk up the beans.  The veggies add a nice crunch and pack in even more nutrients.
Can I use another type of bean?

Any type of bean will work in this recipe – chickpeas, kidney beans, black beans, or pinto beans.  You can even go crazy and add green or wax beans for an entirely different look.  Mix and match different combinations for a different texture and taste every time you make this dish. 

You can use cooked beans or canned, it's entirely up to your preference.  If you are using canned, rinse them well so that the starchy canning liquid does not affect the salad.


How to store the bean salad?
You can keep the bean salad in the fridge for up to 4 days, do not freeze as the veggies will change the texture and get soggy.

Substitutions
Beans: You can use any type of beans you want.
Kalamata olive: You can use pitted green olive
Green onion: You can use 1 shallot finely diced
Maple syrup: Agave syrup or honey will also work
Cilantro: fresh parsley will also do
More recipes with beans
Cauliflower and Chickpeas Salad
Chickpeas and Sweet Potato Curry
White Bean and Bruschetta Wrap
High Protein bean Salad
This High Protein Bean Salad is unanimous at home, everyone is happy when they see this beautiful colorful salad arriving on the table.
Ingredients
1 can

19 oz

chickpeas

1 can

19 oz

kidney beans

2

bell pepper

diced

1

cup

tomatoes

diced

2

small cucumber

sliced

¼

cup

kalamata olives

halfway

2

slices

green onion

sliced
Instructions
Salad:

Wash and prepare all the ingredients. Put the salad ingredients in a bowl.

Dressing:

Add the ingredients of the dressing in a bowl. l and mix it. Mix everything until well combined

Mix:

 Pour the vinaigrette over the salad and mix until all the ingredients are well coated

Macerate:

Macerate 30 minutes before serving
Notes
For the vinaigrette you can also use the recipe of the best Vinaigrette.
You can keep the bean salad in the fridge for up to 4 days, do not freeze as the veggies will change the texture and get soggy.
Nutrition
Calories:
134
kcal
Carbohydrates:
3
g
Protein:
9
g
Fat:
14
g
Saturated Fat:
1
g
Trans Fat:
1
g
Sodium:
101
mg
Potassium:
99
mg
Fiber:
1
g
Sugar:
2
g
Vitamin A:
776
IU
Vitamin C:
30
mg
Calcium:
27
mg
Iron:
2
mg