These Roasted Cauliflower Tacos are nothing less than the definition of the ideal meal.
I never met someone who didn't like tacos. I like the convivial and festive aspect of the process of preparing and eating it. All we have to do is put the ingredients on the table, we then have to let each guest fill his taco! Another thing that I love about Roasted Cauliflower tacos is that you can really be creative with flavors and combinations. It's almost impossible to be wrong.
It's really a festive taco, sweet, tangy, spicy, crunchy, and absolutely delicious. The red cabbage salad and coriander marinated in lime juice add a delicious crunchy texture. And the essential toppings (which you can, of course, adapt to your tastes): green onions, avocado, salsa make this cauliflower taco even more delicious.
About These Roasted Cauliflower Tacos
Easy to make and ready in less than a 1hour. They are also healthy plant based and gluten free.
During the time the cauliflower is roasting in the oven, prepare the cabbage salad mix and all the garnish you want to add in your tacos.
Add the end you have tangy, spicy, well-balanced healthy taco.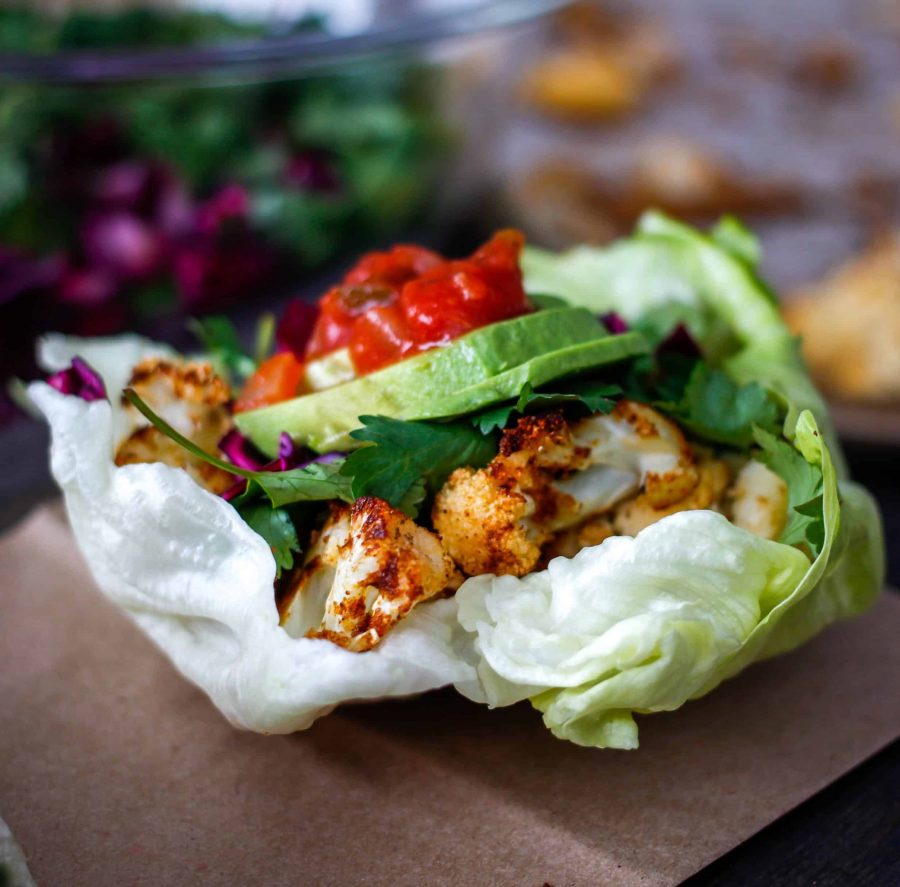 More healthy recipes
Cauliflower and Chickpea Curry
Roasted Cauliflower Tacos
These Roasted Cauliflower Tacos are nothing less than the definition of the ideal meal.
Ingredients
⅓

cup

olive oil

2

tbsp.

ground coriander

1

tbsp.

chili powder

1

tbsp.

cumin

1

tbsp.

onion powder

¼

tsp.

salt

1

cauliflower

medium size in small florets

½

cup

lime juice

2

tbsp.

brown sugar

¼

tsp.

salt

½

cup

fresh coriander

finely chopped

1

head

Boston lettuce

1

avocado

sliced

½

cup

red cabbage

finely chopped

½

cup

salsa
Instructions
Place a rack in the center of the oven and preheat to 450ºF.

In a large bowl, combine olive oil with ground coriander, chili powder, cumin, onion powder and salt. Spread the sauce on the cauliflower on a baking sheet and stir to coat. Spread cauliflower in a single layer.

Grill cauliflower in oven until bunches are golden and crisp, about 25 minutes - stir halfway through.

In a large bowl, whisk lime juice with brown sugar and salt. Then add the red cabbage and fresh coriander to the bowl. Stir.

Spread lettuce leaves on a plate, garnish each with roasted cauliflower, cabbage mix, salsa  and avocado.
Nutrition
Calories:
389
kcal
Carbohydrates:
36
g
Protein:
8
g
Fat:
29
g
Saturated Fat:
4
g
Fiber:
13
g
Sugar:
13
g
Iron:
6
mg