Spicy and Fresh these BBQ Cauliflower Wings are a Crowd Pleaser!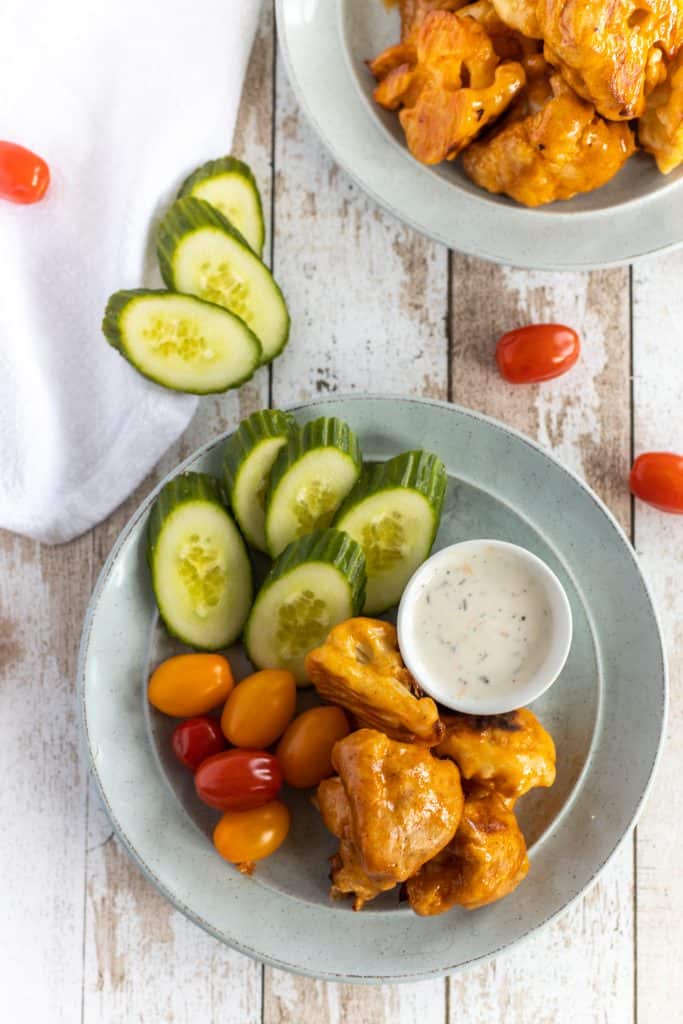 BBQ wings and ranch dip are quintessential as party food, whether you're enjoying the football game or having a beer with friends. This is a great way to enjoy them in a healthy way while keeping little chickens everywhere safe and happy. I'm also sharing with you my recipe for vegan ranch dip, which is great to dip your wings in or serve with a side of carrot sticks and celery.
The cauliflower
In the last few years, cauliflower has become "the new kale," a bestselling veggie that works well with veggie, keto, and paleo diets. And it's no wonder when you think about how versatile this little brassica is! Cauliflower (1) belongs to the same family as Brussel sprouts and cabbage, and for so many years was overlooked on veggie trays as broccoli's bland cousin. Now, it gets used in place of rice, pizza dough, or even wings.
When you get your cauliflower home from the grocery store, unpack it from its plastic right away to keep it from rotting prematurely. Cut it up and keep it in a tightly closed container with a few sheets of paper towel to remove the excess moisture. Your cauliflower will keep this way for up to 5 days in the fridge, giving you plenty of time to make this recipe. Alternatively, you can store the whole head in a zipper plastic bag for 5-7 days.
The preparation
Each cauliflower floret is dipped in a flour mixture and baked until golden brown. Once your wings are crispy, toss them along with the sauce in a large bowl.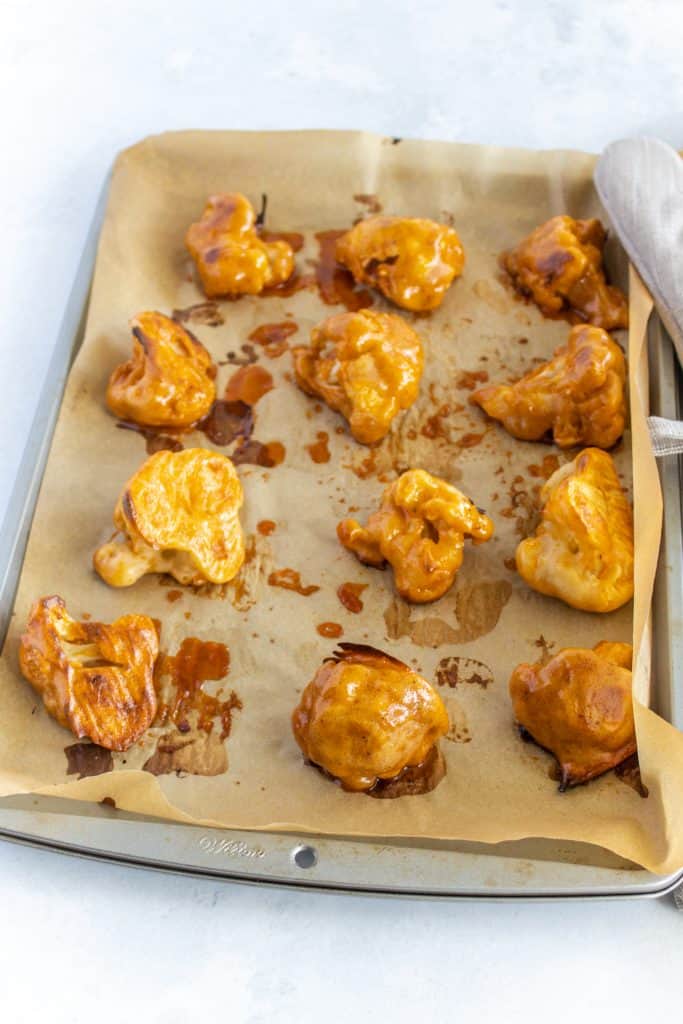 FAQS
Can I change the BBQ sauce for another kind!
Yes, you could make a hot sauce, garlic ranch, or even curry sauce instead.  Once you know how to make the wings themselves, any flavor combinations are possible.
Are BBQ Cauliflower Wings good?
Yes much better than the chicken wings! There is no cholesterol in cauliflower and they are low in fat and saturated fat. Plus cauliflower is packed with fiber and antioxidants!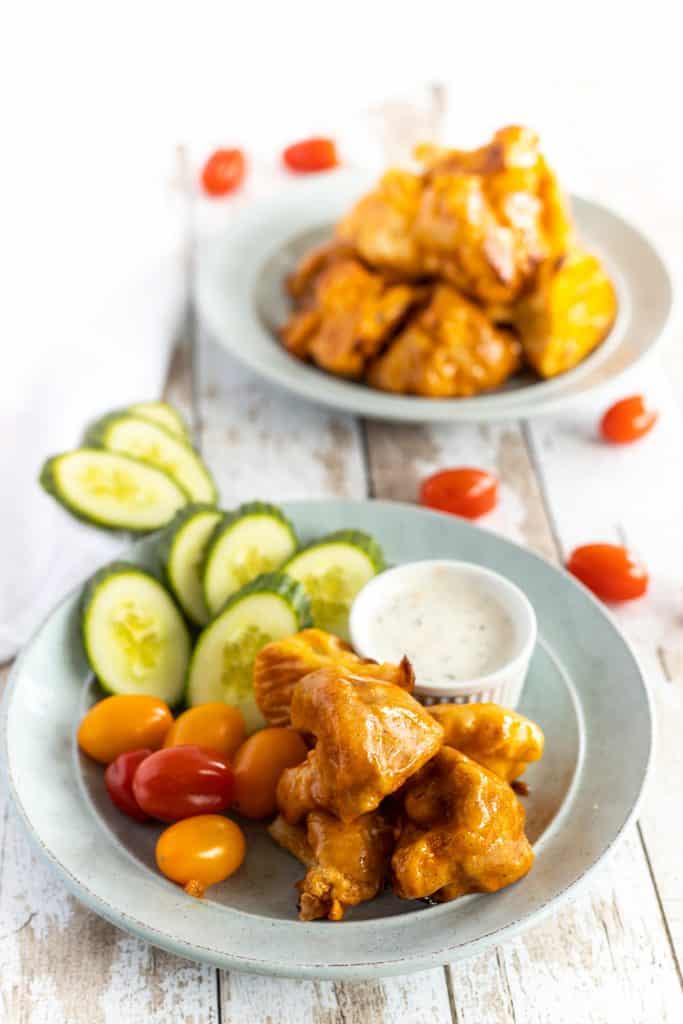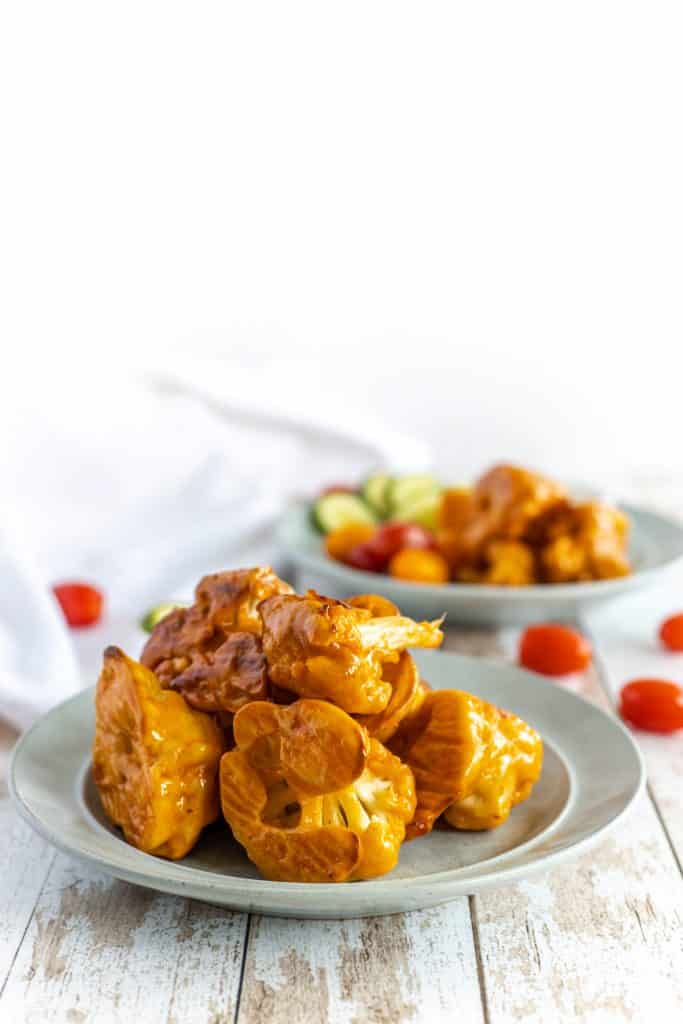 Vegan Ranch Sauce
1½ cups vegan mayonnaise
¼ cup plain unsweetened plant base milk
1½ teaspoon apple cider vinegar
3 finely chopped garlic cloves
½ tablespoon dried parsley
1 teaspoon dried dill
1 teaspoon powdered onion
Salt and pepper to taste
Instructions
Combine all the ingredients in a bowl.
If the mixture is too thick according to your preferences, add a little more milk.
Keep refrigerated. Flavors develop over time so it is best to wait at least 2 hours before consuming it.
You can keep this sauce for 7-10 days in the fridge
More Cauliflower Recipes
Cauliflower and Chickpeas Salad
BBQ Cauliflower Wings
These BBQ cauliflower wings are super good served with a vegan ranch sauce.
Ingredients
1 ¼

cup

all-purpose flour

1

teaspoon

chili powder

1

teaspoon

garlic powder

1

teaspoon

onion powder

1

teaspoon

salt

½

teaspoon

pepper

1 ¼

cup

plant based milk

1

large

cauliflower

stems removed, cut into florets about 5 cm (2 inches)
Sauce
¼

cup

hot sauce

2

tablespoons

canola oil

2

tablespoons

maple syrup
Instructions
Preheat the oven to 450 ° F. Line a baking sheet with parchment paper.

In a small bowl add the spices and mix well

In a large bowl, combine the flour and spices. Add milk and stir until well combined.

Put the cauliflower in the mixture. Stir to coat it well.

Place the florets on the baking sheet. Bake for 20 minutes.

Meanwhile, in a large bowl, combine all the ingredients for the Buffalo sauce. Mix.

Remove the cauliflower from the oven and add them to the bowl with the sauce, mix gently to cover all of the cauliflower florets with the sauce.

Add back the cauliflower florets on the baking sheet.

Continue cooking for 10 more minutes or until golden brown with crispy edges.

Serve the florets hot with a ranch dip if desired.
Notes
If you like if spicy, you can also double the Buffalo sauce recipe to serve as a dip as well.
If you have any leftovers, you can reheat them in the oven, they will just as good!
Will keep up to 5 days in the fridge in an airtight container, do not freeze.
Nutrition
Calories:
331
kcal
Carbohydrates:
56
g
Protein:
10
g
Fat:
9
g
Saturated Fat:
1
g
Trans Fat:
1
g
Fiber:
6
g
Sugar:
16
g
Calcium:
178
mg
Iron:
4
mg