Prepare to embark on a tantalizing taste journey with this delightful Dill Salad Dressing recipe! With is fresh flavor, this homemade dressing will leave your taste buds dancing with joy. Brace yourself for a harmonious blend of dill, lemon, and a touch of sweetness that will transform your favorite salad into a culinary masterpiece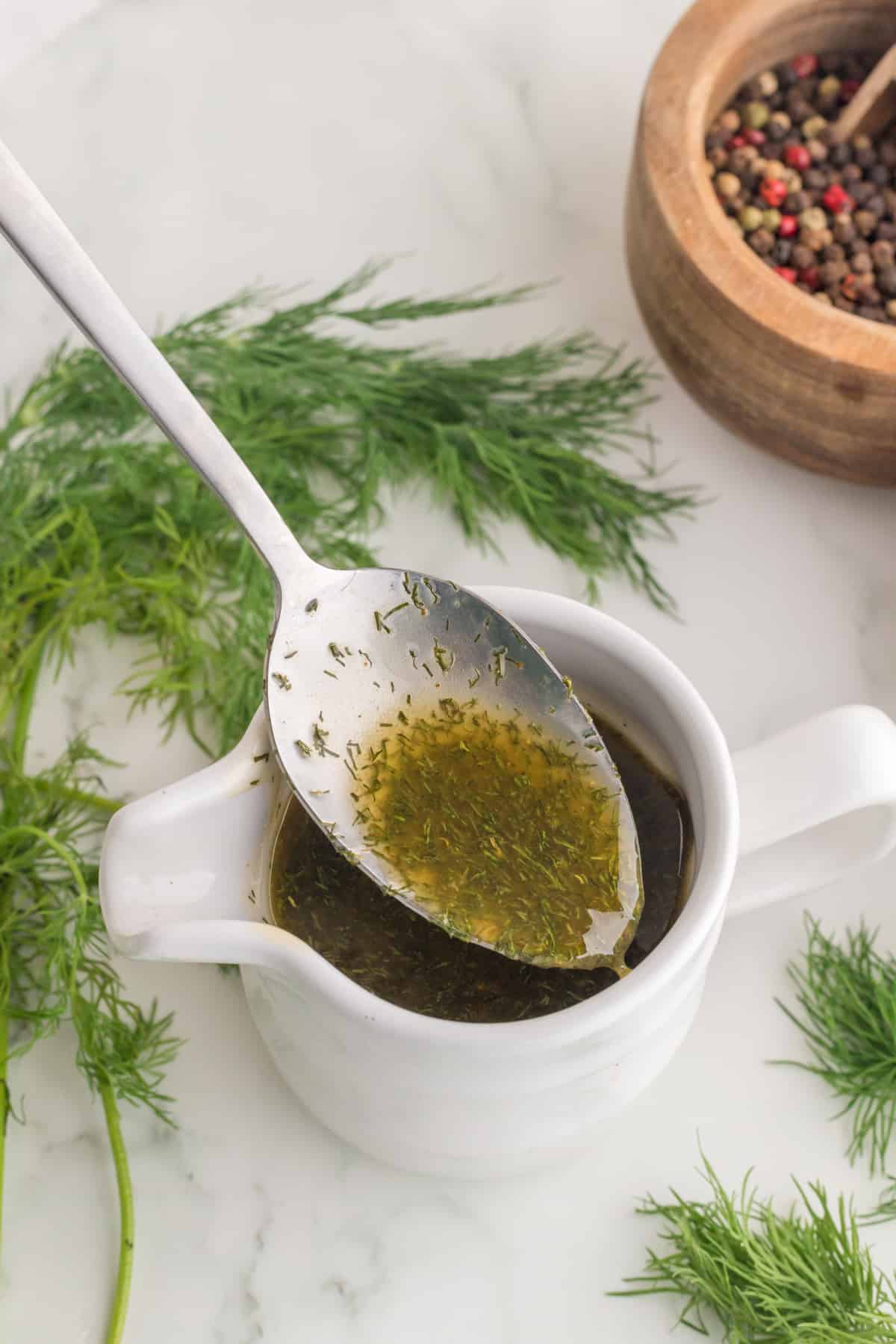 If you love homemade salad dressing be sure to check out this Simple Fresh Herb Vinaigrette and this Green Goddess Salad
Why you will love this recipe
This dressing is a symphony of flavors, combining the fresh and vibrant notes of dill, the tanginess of lemon juice, the subtle sweetness of maple syrup, and the hint of smoky warmth from sweet paprika. Making this dill dressing is quick and easy. With just a few simple steps and readily available ingredients, you can whip up a batch in no time. It requires minimal effort, but the results are remarkably flavorful. The dressing can also be prepared in advance, allowing you to save time and have it readily available. It stores well in the refrigerator, giving you the convenience of having a delicious dressing on hand for multiple meals throughout the week.
The ingredients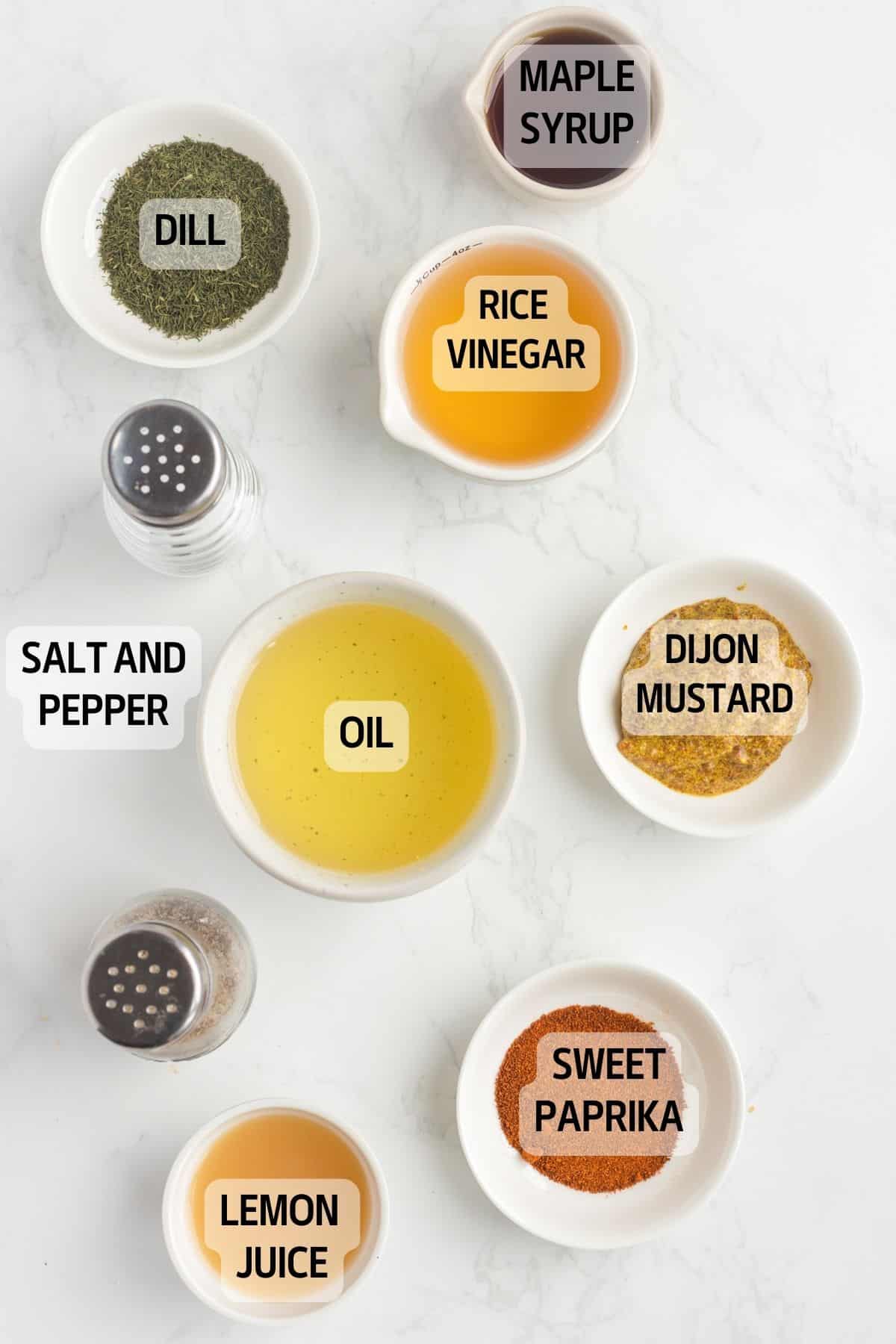 You will need these simple ingredients to make this recipe
canola oil
rice vinegar or white wine vinegar
fresh lemon juice
maple syrup
sweet paprika
Dijon mustard
dill weed
salt
black pepper
See recipe card for quantities
How to make the dill salad dressing - step by step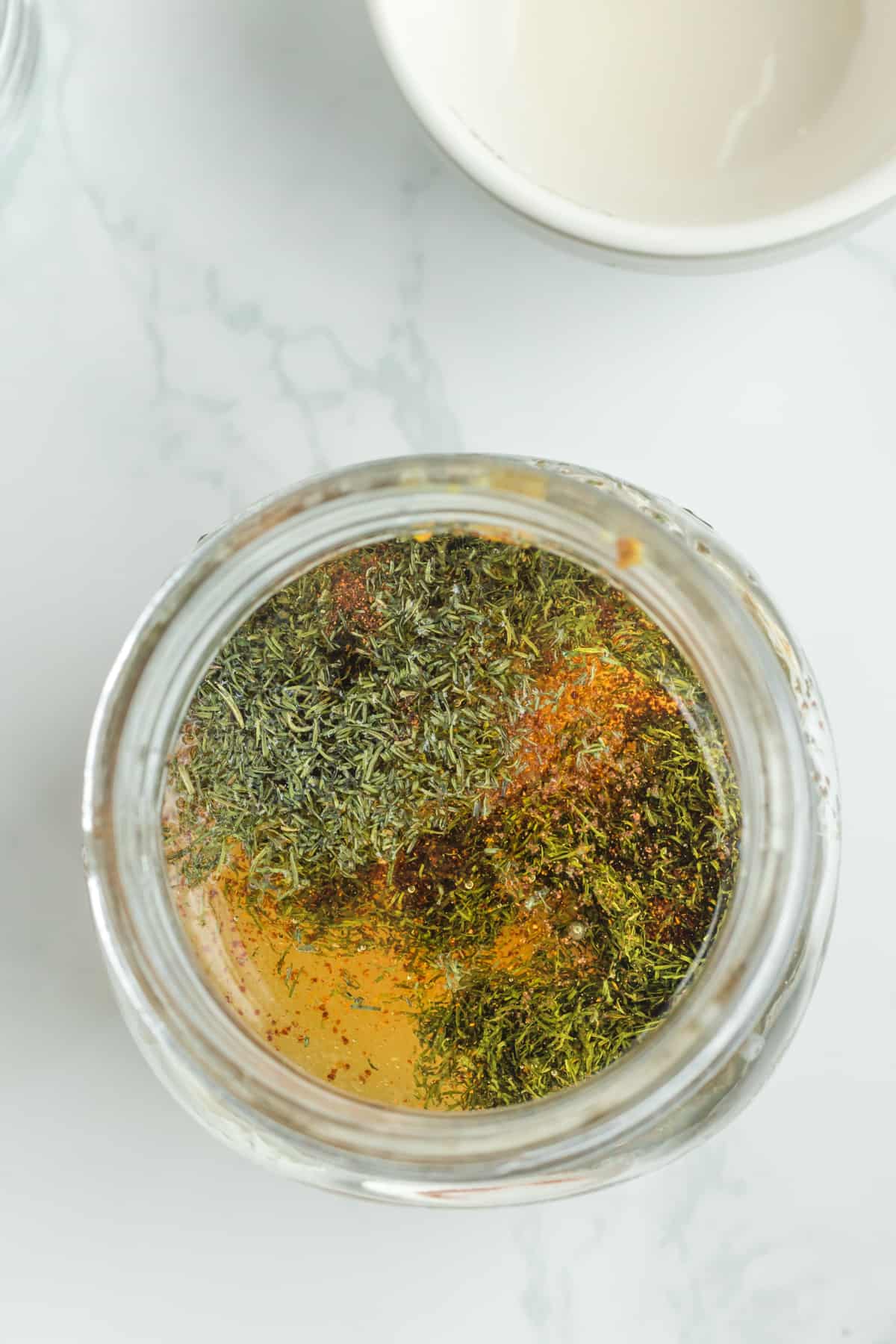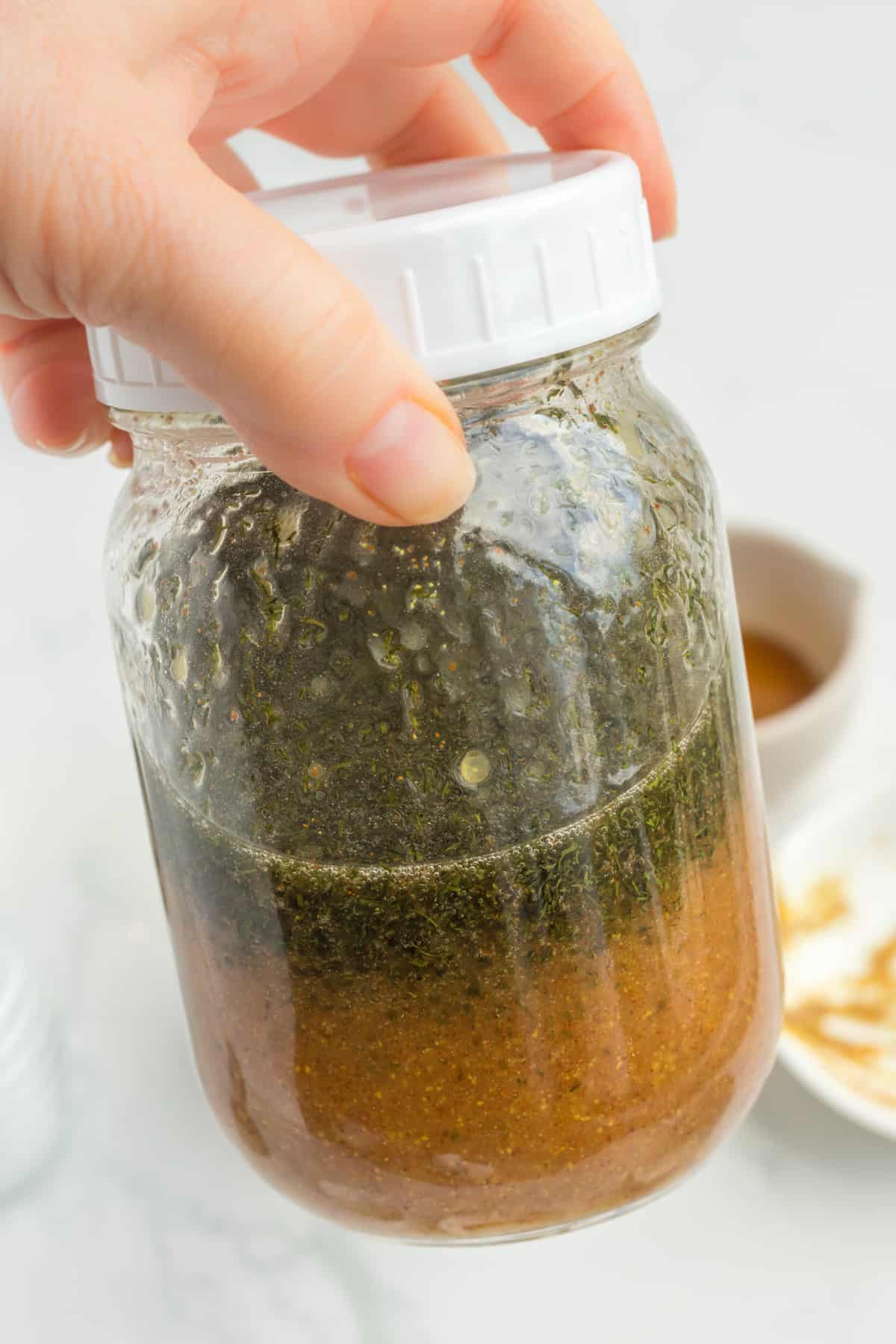 In a bowl or a mason jar add all the ingredients
Whisk or give it a good shake to combine all the ingredients together.
Taste and adjust the seasoning if necessary.
note: you can also use the food processor if you want a smoother texture.
FAQ
Can I substitute canola oil with another type of oil?
Absolutely! While canola oil offers a neutral flavor that allows the other ingredients to shine, you can experiment with different oils. Extra virgin olive oil and vegetable oil can be suitable alternatives.
Is there a substitute for rice vinegar?
If you don't have rice vinegar on hand, you can replace it with white vinegar or apple cider vinegar. However, keep in mind that the flavor profile may slightly differ.
How long does the dill salad dressing last?
When stored in an airtight container in the refrigerator, the dill dressing can last for up to one week. 
Can I use this dressing on other dishes besides salads?
Absolutely! While this dill dressing is fantastic on salads, it can also elevate other dishes. Try using it as a marinade for grilled chicken or vegetables, or even as a topping for roasted potatoes. 
can I use fresh dill instead of dried dill?
Yes, absolutely! Fresh dill can be used in place of dried dill in this recipe. When substituting fresh dill for dried dill, keep in mind that the intensity of the flavor may vary. As a general guideline, you can use three times the amount of fresh dill compared to dried dill. For example, if the recipe calls for 1 teaspoon of dried dill, you can use 3 teaspoons (1 tablespoon) of fresh dill.
Tips
Adjust Consistency: If you prefer a thinner dressing, you can add a bit more oil or vinegar to achieve the desired consistency. Conversely, if you prefer a thicker dressing, reduce the amount of oil slightly. Don't be afraid to adapt the recipe to your liking.
Always taste your homemade salad dressing as you go. The measurements provided in the recipe serve as a guideline, but everyone's palate is different. Adjust the amount of dill, sweetness, acidity, or any other ingredient to suit your taste preferences.
After preparing the dressing, let it sit for at least 15-30 minutes before serving. This resting time allows the flavors to meld together and intensify, resulting in a more harmonious taste experience.
Give it a good shake or stir before using it again, as the ingredients separate slightly over time.
Variations
Creamy Dill Dressing: To create a lusciously creamy dressing version, add ¼ cup of plain Greek yogurt or sour cream to the original recipe. Whisk it in along with the other ingredients, and enjoy the rich and creamy texture it brings to the dressing.
Spicy Dill Dressing: If you crave a bit of heat, infuse your dressing with a kick of spice. Add a pinch of cayenne pepper or a dash of hot sauce to the original recipe. Adjust the amount according to your desired level of spiciness.
Salad and dressing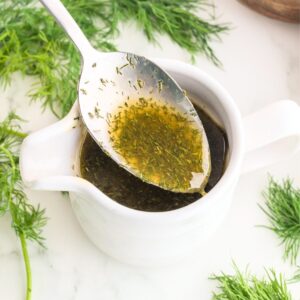 Dill Salad Dressing
With is harmonious blend of dill, lemon, and a touch of sweetness that will transform your favorite salad into a culinary masterpiece
Ingredients
¾

cup

canola oil

½

cup

rice vinegar

or white wine vinegar

2

tablespoons

fresh lemon juice

3

tablespoons

maple syrup

1

teaspoon

sweet paprika

2

teaspoons

Dijon mustard

1

teaspoon

dill weed

1

teaspoon

salt

½

teaspoon

black pepper
Instructions
In a bowl or a mason jar add all the ingredients

Whisk or give it a good shake to combine all the ingredients together.

Keep refrigerated. When serving, shake vigorously to obtain a homogeneous mixture.
Notes
 When stored in an airtight container in the refrigerator, the dill dressing can last for up to one week. 
Nutrition
Calories:
141
kcal
Carbohydrates:
4
g
Protein:
0.1
g
Fat:
14
g
Saturated Fat:
1
g
Polyunsaturated Fat:
4
g
Monounsaturated Fat:
9
g
Trans Fat:
0.1
g
Sodium:
204
mg
Potassium:
20
mg
Fiber:
0.1
g
Sugar:
3
g
Vitamin A:
84
IU
Vitamin C:
1
mg
Calcium:
8
mg
Iron:
0.1
mg